G
i
l
l
y

N
i
l
s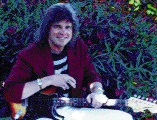 Gilly Nils is an independent multi-track recording artist who has recently completed his debut solo-album entitled "Heart Gallery." This self-produced compilation of original material explores Nils' roots of musical interest, and a personal side of life's common threads. His style bears a fondness for late sixties pop-rock and psychedelic bands, the progressive groups of the 70's, and the diverse career of his long-time favorite artist Todd Rundgren. Nils' songwriting and arrangements capture ingredients within this mixture of inspiration, so if you're familiar with this musical territory, don't be surprised if something "pops out" at you!

"Heart Gallery" contains over seventy minutes of music, in which it climaxes with a progressive saga ("mini rock opera"). The CD package art concepts decorate the music. Gilly Nils would like his music to decorate your ears.
---
On January 12, 1997, Joyce Hayward conducted this interview with Gilly Nils.
---
HEART GALLERY by Gilly Nils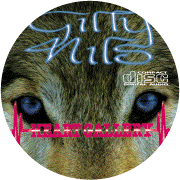 Tracks: (71:07 total)
01 Overture: Full Moon Frenzy / Full Moon Train (3:45)
02 Heart Gallery (5:12)
03 Stealing Your Heart Tonight (4:24)
04 Window Game (4:59)
05 Lazy May Avenue (4:51)
06 Nasty Girls (7:25)
07 Carousel Clown (4:38)
08 How Long Is Love? (5:39)
09 Coastline Highway (4:39)
10 The Pirates of the Blue Meridian (20:24)

a. Tale of Seven Ships
b. Fire on the Mountain
c. Winds Scanning the Earth
Cost: $10 includes postage. ($11 for orders outside the U.S.)
---
Send your order to:
Make check payable to:
Heart Gallery
c/o Lettish Productions
P.O. Box 751
Chester, CA 96020

H
e
a
r
t

G
a
l
l
e
r
y