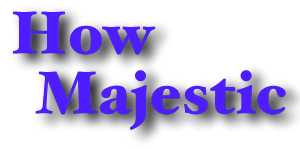 How Majestic was originally formed as the contemporary music team for Calvary Lutheran Church, Rio Linda. Through various incarnations, they've been together since 1998, established initially to lead a weekly Sunday evening service. Their name comes from the song "How Majestic Is Your Name" (they took it literally) by Michael W. Smith, which was a popular, early favorite in their repertoire. Prior to that, they were known merely as "the music team." A complete history has been written.

---
In addition to Sundays at Calvary through 2005, they also played
for four Sacramento Conference assemblies (2000 - Calvary; 2001 - Gethsemane; 2002 - American, Woodland; 2004 - Calvary)
for Easter Vigil services (with Bishop Mattheis and Bishop Mullen)
for a special Lutheran/Catholic service presided over by Bishop Weigand
for the wedding of Bart and Mara Anderson
for a memorial gathering for Jackie O'Brien
for the ordination of Eric Griffith
in a special concert to raise funds for cancer research
in the world premiere of "40 Days: Resurrection to Ascension"
at a Sacramento Conference reception honoring Bishop-Elect David Mullen
at the installation of Bishop David Mullen
at an Ice Cream Social at Atonement Lutheran Church, Sacramento, CA
for the wedding of Scott and Bethany Davis
for the wedding of Bill and Paula Perkins
in the North Highlands Memorial Day parade in 2003 and 2004
at weekly Taizé services during Lent 2003
at bi-weekly Taizé services
on the Lutherans ALIVE! television program
at Holden Evening Prayer during Lent 2002 and 2003
at the 50th Anniversary of Lutheran Church of Our Redeemer, Sacramento
at the installation service for Rev. Martin L. Lettow
for neighborhood Christmas Caroling
at Sierra Pacific Synod Gathering 2004 worship
at Rio Linda's 10th annual Farm and Tractor Days
at the Dorothy Booker Interfaith Musicale
at "Celebrate America!" Memorial Day event - Advent Lutheran Church
at "Worship in the Park" - Rio Linda Depot Park
at the "Lutherans ALIVE!" GALA Celebration event in 2004
for "Christmas Memories" at the California Governors mansion
The final full lineup was:

| | |
| --- | --- |
| Christopher Carlson | Guitar, Vocals |
| Bethany Davis | Keyboards, Vocals |
| Tom Kent | Guitar, Vocals |
| Arlene Kozub | Vocals |
| Cathy Kreutzer | Vocals |
| John Kreutzer | Bass |
| Roger Linder | Guitar, Vocals, Keyboard programming |
| Janelle McMillan | Vocals |
| Carol Milloway | Guitar, Vocals |
| Alice Schieberl | Vocals |
| Ted Schieberl | Vocals |
Former members include Andrew Davis, Teri Delise, Dylan Espegren, Marti Felter, Linda Griffith, Kellene Kozub, Matt Linder, Nancy Moormeier, Jamie Topper, Pete Weber and Elaine Wersky. Sound technicians are Roger Linder and John Kreutzer.
May 6, 2001

How Majestic used a number of sources for its music selection, including original compositions, The Other Song Book and With One Voice. Its repertoire was varied and included over 500 songs.