Stina Johannesdotter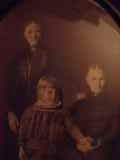 Kajsa​ ​Andersdotter, Stina Johannesdotter and Kristina Hermansdotter (Standing is Stina, Kristina is sitting on left and Kajsa is sitting on right)

My great-grandmother 1851-1937. In the US she was known as Chrioline Olson (more likely Christine) according to 1905 Wisconsin census or Kristina Olson (1910 Census) and Christine Holmberg (1920 census)
Obituaries
Douglas "Duggy" Nelson, 60, of Chetek, Wis., died Tuesday, June 16, 2015, at Mayo Clinic Health System in Eau Claire surrounded by his family.

He was born June 5, 1955, to Donald and Donna (Nichols) Nelson at Rice Lake. He was baptized at New Scandinavia Lutheran Church and confirmed at Faith Lutheran Church in Cameron. On June 4, 1983, he married Sherri Lyste at Chetek. The couple resided in the Chetek area. Duggy worked his early years at Tel-e-lect, Indianhead Rendering and Sykes Meats. He went on to become an officer with the Barron County Reserves. He also worked for Pete Sinclair hauling milk and worked part-time as an officer for Turtle Lake, Cameron and Cumberland police departments before becoming a full-time police officer for the Chetek Police Department.

He was also an active member of the Chetek Fire Department. He loved 4-wheeling, camping, deer hunting and grilling with his family. The joy of his life was grandchildren, and they adored him. He also had a passion for softball, which he played for many years. Duggy will be missed by all who loved him.

He is survived by his loving wife Sherri, of Chetek; three sons, Jeremiah Nelson (Kim Hanson), David (Jeannie) Nelson and Mark (Jessie) Nelson, all of the Chetek area; six grandchildren, Brandon, Rebecca, Samuel, Hunter, Ethan and Landon; one step-grandchild, Domynec; three brothers, David (Maggie) Nelson and Dale (Michelle) Nelson, of Cameron, and Dewey (Theresa) Nelson, of Almena; two sisters, Debbie Nelson, of Barron, and Diane (Charlie) Boese, of Clayton; his little companions, PeeWee and Snickers; as well as many nieces, nephews, cousins, other relatives and friends.

He was preceded in death by his parents and one nephew, Matt.

Funeral services were held Saturday, June 20, at Chetek United Methodist Church with the Rev. Noel Cisneros officiating.

Interment will be at a later date at Otterholt Cemetery in the Town of Prairie Lake, rural Chetek.

Arrangements were with Rausch-Lundeen Funeral Homes, Cameron and Dallas.
Peggy Lyste Wilson
April 8, 1958 ~ April 15, 2020 (age 62)

Peggy Sue (Lyste) Wilson, daughter of Lawrence R. and Angeline Marie (Olsen) Lyste, was born on April 8, 1958 at Rice Lake, Wisconsin. She entered into eternal rest on Wednesday morning, April 15, 2020 at her home in Shenandoah, Iowa, following a courageous bout with cancer at the age of 62 years, 7 days. Professional services are under the direction of Nishna Valley Funeral and Cremation Service in Shenandoah.

Her early life was spent growing up on a farm outside of Cameron, Wisconsin. Peggy attended the Cameron Community Schools, graduating from Cameron High School with the Class of 1976. As a teenager, she began working with the disabled at the Agricove facility in Cameron. She had a passion for helping people and grew close to those she worked with. Following high school she joined the Wisconsin National Guard and worked as a CNA (Certified Nurse Aide).

On April 29, 1978, Peggy was united in marriage to Steven Tess Wilson in Chetek, Wisconsin. Following their marriage they moved to Nebraska for a short time before settling in southwest Iowa. Peggy was a stay-at-home mother to their four children during their adolescent years.

Eventually, Peggy went back to working at a factory for a short time before returning to what she loved, working as a CNA at the Villisca Good Samaritan Society. She also worked for a period of time at Hardee's in Clarinda and at Wanda's Redemption Center. In her later years, she worked as a cook at Windsor Manor in Shenandoah before becoming the head cook at the Robins Nest in Clarinda. She loved her job there and worked up until she no longer could due to her illness. She enjoyed attending church at I Do Care Worship Center with Pastor Deb Rivers. Peggy loved to cook and bake. Most of all, she loved spending time with her family. Her grandchildren and great grandchildren were her pride and joy.

Preceding Peggy in death were her parents; brother-in-law, Doug Nelson; sisters-in-law, Geneva Skallberg and Norma Graham; and her father and mother-in-law, Casey and Marjorie Wilson. Left to cherish her memory are her loving husband of 42 years, Steve Wilson of Shenandoah, IA; her four children, Casey Wilson and wife Amber and Steve Wilson and wife Angie, all of Shenandoah, Tiffany Schooling and husband Kenton of Council Bluffs, IA and Michael Wilson and wife Tabatha of Shenandoah, IA; four siblings, Lawrence Lyste and wife Shelly of Barren, WI, Anne Marie Sheehan and husband Shawn of Barronett, WI, Sherri Nelson of Chetek, WI, and Larry Lyste of Rice Lake, WI; brothers and sisters-in-law, Jeannette Hendrickson and husband Raymond of Mountain Home, AR, Jim Wilson and wife Nancy of Cameron, MO, Eldon Wilson and wife Geraldean of Afton, IA, Mable Wilson of Stanton, IA, Russell Wilson of San Francisco, CA, Raymond Lloyd Wilson and wife Bonnie of Brookhaven, MI; 16 grandchildren; one great grandchild; many nieces and nephews; other relatives and many, many friends.
Olson, Mary Brylski, 84, Anaheim resident, died Oct. 27. Preceded in death by husband, Kenneth. Mary is survived by 3 children, Craig Olson, Curtis (Becky) Olson, Marliss (David) Scott, 3 grandchildren, 8 siblings. Services held Thurs., Nov. 8, 10am St. Norbert Catholic Church 300 E. Taft Ave., Orange.

Published by Orange County Register on Nov. 7, 2012.