Katherine Gellner Wirth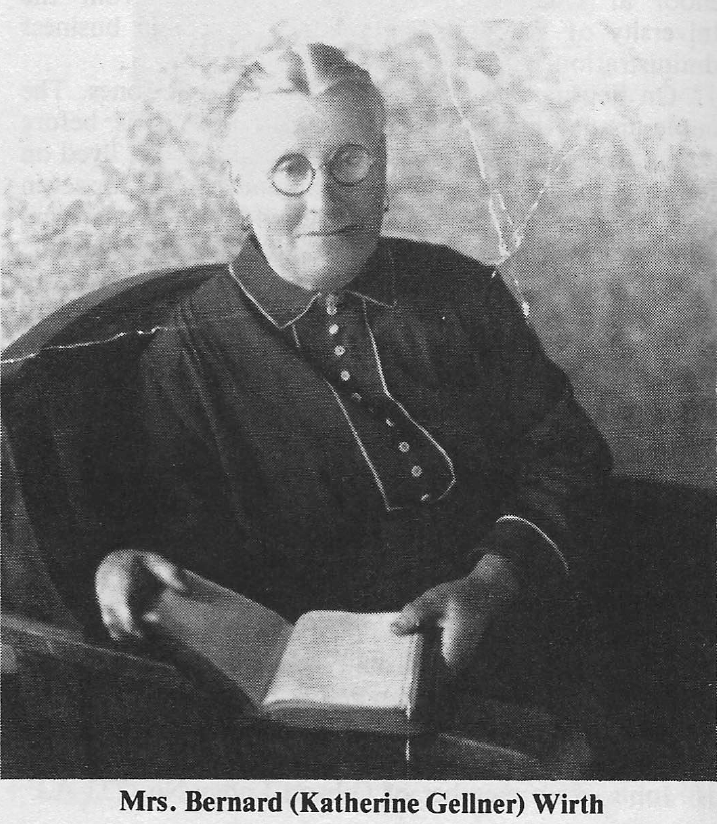 Katherine Gellner Wirth
(Bernard Wirth) married a widow, Katherine Gellner at Kaluz, Galacia, Austria in 1893. Katherine and her first husband, who may have been a Johansen, had at least three children. Two married daughters from this union are believed to have remained in Bremen, Germany when their mother came to America.

The daughter of Franz Karl and Susana (Loewenberg) Gellner, Katherine was born September 1, 1854 in Augustdorf, Galacia, Austria. She had two brothers, Adam Gellner and John J. Kelner; a sister, Christina, who died in infancy, and four half-sisters: Marie Reich, Wilhelmina Schaffer, Karolina Herrboldt and Pauline Talladay [Tallada].

"The Spirit Lives On", Osnabrock, ND, 1887-1987
She died September 18, 1940 and is buried with Bernard in Calvary Cemetery, Langdon, ND.
Questions
Who was Katherine's first husband, who died and presumably was named Johansen?
Who are her three children who stayed in Germany?
Family Tree - Descendants of Johann and Julianna Deutcher Goellner
Color Legend
Grandparents
Parents
Siblings
First Cousins
Second Cousins
Third Cousins
Fourth Cousins
Fifth Cousins
Johann Goellner Born about 1799

Spouse: Julianna Deutcher Born about 1804
Son: Franz Karl Goellner Born: 1826 Died: 1910 or 1912

Spouse: Susana Loewenberg 1825 - 1868
Son: Adam Gellner Born: 1849 Died: 10 August 1906

Spouse: Elizabeth Howitz Born: 28 May 1846 Married: 1872 Died: 14 September 1943
Son: George Gellner Born: 15 April 1872
Daughter: Mary Gellner Born: 15 August 1876 Died: 27 September 1957

Spouse: John Backes Born: 30 December 1871 Married: February 1894 Died: 17 September 1941
Son: Joseph E Backes Born: 1904 Died: 3 November 1930
Son: John Backes
Son: Ludwig F. Backes (AKA Louis) Born: 25 January 1908 Died: 27 March 1999
Son: Ben/Bernard Backes Born:27 September 1916 Died: 21 April 1962

Spouse: Adeline I Timian Born: 1919 Died: 1988
Son: Larry Backes
Daughter: Donna Backes Born: 31 October 1926 Died: 17 December 1995

Son: George Backes
Daughter: Elizabeth Backes
Daughter names: Agnes, Margaret
Daughter: ? Backes
Daughter: Rosalie B Backes Born: 9 January 1906 Died: 7 November 1990 near Seattle, WA
Daughter: ? Backes
Daughter: Eleanor Backes

Spouse: Rudolph Westphal
Son: Edgar G. Westphal Born: 27 January 1939 Died 18 April 2001
Daughter: Iona Westphal
Daughter: Retta Westphal
Daughter: Mary Westphal

Spouse: Donald Feldner of Starkweather, ND
Daughter: Tamara Feldner
Daughter: Lisa Feldner

Daughter: Dorothy Westphal
Daughter: Faye Westphal

Spouse: Larry Schill of Lawton, OK.

Son: David Westphal Born: 7 June 1944 Died: 5 August 1995

Daughter: Katherine Gellner Born: June 18, 1878 Died?: 23 Dec 1939

Spouse: Karl Wilhelmi
Married: 1902
Daughter: Anna Wilhelmi
Son: Louis Wilhelmi
Son: Jacob Samuel Wilhelmi 1905-1929
Son: Adam Walter Wilhelmi
Daughter: Rose Wilhelmi
Daughter: Mary Wilhelmi Born: 1909 Died: 1987

Spouse: Alex Ire Milan Anderson Born: 1905 Died: 1988
Son:
Daughter: Janet Anderson Died: 1945
Daughter:
Daughter:
Daughter:
Son:
Daughter:

Son: Frank Wilhelmi
Son: Ferdinand Wilhelmi
Son: Philip Wilhelmi
Son: Carl P. Wilhelmi
Son: Daniel Wilhelmi
Son: Herbert Benedict Wilhelmi
Son: Edward John Wilhelmi
Child?: Wilhelmi
Daughter: ? Wilhelmi

Son: John C. Gellner Born: July 15, 1880 Died: December 15, 1958

Spouse: Barbara Huether Born: 18 Oct 1886 S. Russia Married: 24 April 1904 Died: 19 June 1961 ID, USA
Son: Adam Gellner Born: 1905 Died: 1996

Spouse: Hazel Schemp Born: Oct 10, 1909 Died: Jan. 4, 1980
Daughter: Bernadean M Gellner Born: About 1932

Spouse: John Johnson
Son: Alan Earl Johnson
Daughter: Kathy Johnson

Son: Jacob Gellner Born: 16 Dec 1882 Died: 27 August 1946

Spouse: Barbara Waltz
Son:
Son: Edward J Gellner b. 1909

Spouse?: Loretta M. Lorenz d. before 2009 in Flint, Genesee County, Michigan 1940

Daughter: Julia A Gellner b. 1913
Son: Florance J Gellner b. 1914
Son: Alfred T Gellner b. 1915

Son: Michael Gellner Born: 15 Dec 1886
Son: Phillip Gellner Born: 10 September 1894 Died: 13 May 1971

Spouse: Antholena Moos Born: 22 Feb 1896 Died: 20 July 1955
Daughter: Cecelia Gellner Born: 8 June 1921 Died: 14 December 2006
Daughter: Mary Magdalene Gellner Born: 11 June 1923

Spouse: Edward Lorenz Born: 5 Oct 1915
Spouse: Phil Tveten

Daughter: Lorraine Gellner Born: 29 June 1916 Died: 9 August 1969

Spouse: Ralph Stremick Born: 2 May 1903 Died: 16 Dec 1988
Daughter: Donna Stremick

Spouse: Jerry Coyle
Daughter: Carla Marie Coyle

Spouse: Craig Allan Friday Married: 6 August 1982
Spouse?: Olson

Son: Gerald Michael Coyle Class of 1984

Son: Gary Stremick Born: Oct. 22, 1942 Died: June 9, 2002
Son: Kenneth Stremick

Spouse: Dianne Knutson
Son: Corey Stremick
Daughter: Stephanie Stremick

Daughter: Candace Stremick
Son: Mark Stremick

Son: Raymond Gellner Born: 29 Apr 1918
Daughter: Elizabeth "Betty" Jean Gellner Born: 19 Jan 1929

Spouse: Duncan Landsem
Daughter: Landsem
Son: Landsem

Son: Michael James Gellner Born: 16 Nov 1926 Died: ?
Daughter: Beverly Rae Gellner

Spouse: Chauncy Myers Married: 28 May 1960

Daughter: Christina deceased in infancy
Daughter: Katherine Gellner Born: 1 Sep 1854 Died: 18 Sep 1940

Spouse: Johansen
Daughter: ?
Daughter: ?
Child: ?
Spouse: Bernard Wirth
Son: Emil Wert

Daughter: Gloria Wert

Daughter: Cecelia Bennett

Son: John Joseph Kelner Born: 6 November 1860 Died: 18 July 1936 Ancestry

Spouse: Elizabeth Ann Howitz Born: 17 November 1860 Married: 1881 Died: 9 September 1935
Son: Frank Kelner
Son: Edward Kelner 1887-1953

Spouse: Margaret C. Kelner 1891-1964
Daughter: Agnes M Kelner
Son: Eugene Kelner 1918-1964

Son: John Kelner

Son: John Paul Kelner
Daughter: Emili Kelner
Son: Jay Kelner

John R Kelner
Son: Robert A Kelner
Daughter: Winifred T. Kelner
Daughter: Geraldine M. Kelner
Daughter: Rita C Kelner
Richard H. Kelner

Son: Jacob Kelner
Daughter: Eva Kelner

Spouse: John Lorenz
Son: Edward H. Lorenz b. 17 September 1907 d. 17 August 2006

Spouse: Sarah Hooey d. 19 December 1979
Daughter: Patricia Lorenz, Papillion, NE
Daughter: Catherine Lorenz, Springfield, MO;
Son: Patrick Lorenz Castine, ME
eight grandchildren; 19 great grandchildren;
Spouse: Peggy Raffler m. 1982

Son: Richard Lorenz, Langdon, ND

Spouse: Gladys Anne Nelson b. 2 December 1919 m. 31 July 1946 d. 14 January 2016
Son: Rick Lorenz of Denver, CO
Son: Jim Lorenz of Papillion, NE
Son: Tim Lorenz of Mililani, HI
Great-Grandchildren: 2

Son: Bernard Lorenz, Santa Rosa, CA;

Spouse: Ione Jorgensen
Children: 3

Daughter: Therese Lorenz, Arnold, MD
Daughter: Mary Frances Lorenz, St. Louis, MO

Spouse: Ed Boletsa
Children: 5

Son: Thomas Lorenz deceased
Son: John Lorenz, Jr. d. 1984

Spouse: Elsie Best
Children: 2

Son: Paul Lorenz d. 1979

Spouse: Selina Gellner
Children: none

Son: Robert Lorenz deceased
Daughter: Mae Lorenz deceased

Spouse: V.F. "Buzz" Thompson

Daughter: Katherine Kelner

Spouse: Andrew J. Glaholt
Daughter: Lenore Glaholt 1912
Son: Richard Winfield Glaholt 1914
Son: Raymond John Glaholt 1916

Spouse: Mary
Daughter: Laurel Ann Glaholt
Daughter: Linda Mary Glaholt

Daughter: Ardelle Elizabeth Glaholt Born: 26 April 1918 Died: 4 May 2011 in Chico, CA

Spouse: Leonard David Jones
Married: 27 September 1938 in Becker, MN
Daughter: Mary Margaret Jones
Son: Daniel David Jones
Spouse: Curt H Philipp

Son: Willis Andrew Glaholt Born: 23 March 1920 Died: 1999 Contra Costa County, CA

Spouse: Mary Louise Lyonsmith Born: 19 March 1918/1919 Married: June 1938 Died: 15 November 1989
Son: Michael Andrew Glaholt
Son?: William Donald Glaholt Born?: 1946

Spouse: Carol Sue Simmons Married 27 July 1991

Spouse: Ardes Myrelle Atwater Born: 7 November 1922 Died: 4 March 1989
Son: Stephen Paul Glaholt
Daughter: Stacie L Glaholt (California born) 21 May 1957
Son: John W Glaholt 6 March 1962

Son?: Trevor John Glaholt 20 September 1992 (Mother: Kelly Pudas)

Daughter?: Elizabeth A Glaholt

Son: Donald Eugene Glaholt 1923-1983

Daughter: Holly Glaholt
Son: Greg Glaholt 1950-1981
Son: Mark Glaholt
Spouse?: Mildred A Crakes Married 25 June 1971
Spouse: June Tolin Possibly June Elaine Glaholt December 5, 1921 - October 15, 2014

Daughter: Julia Kelner
Son: William Kelner
Daughter: Marie Kelner
Son: Joseph Kelner
Daughter: Laura Kelner

Spouse: Laurits Johansen
Son: Larry Johansen
Daughter: Karen Johansen
Daughter: Julie Johansen

Spouse: Elizabeth Temple 22 Nov 1849 - 5 May 1909
Previously was married to Philip Schmidt, who was killed March 1881 defending his village against the Cossacks in Russia
Married to Franz Gellner about 1884
Daughter: Mary/Marie Gellner 15 August 1884 - 17 February 1961
This source indicates Mary was a Schmidt and not a Gellner. However, elsewhere in the same source, it indicates Mary was a half-sister to Susanna Schmidt, daughter of Philip and Elizabeth.
Daughter: Wilhelmina Gellner (AKA Minnie?) 1888-1945

Spouse: John Schaffer
Daughter: Lydia Mary Schaffer

Spouse: Nile Goodman Streitt 11 May 1919 - 14 January 2007
Daughter: Carol Jean Streitt

Spouse: Ronald Keith Neumann
Daughter: Colleen Ann Neumann

Spouse: Edward Eugene Wray
Son: David Anthony Wray
Daughter: Amanda Jeanelle Wray

Son: Brian Keith Neumann

Spouse: Stacey Brent
Spouse: Elizabeth Ballenger
Son: James Keith Neumann
Son: Sarah Nichole Neumann

Daughter: Darlene Kay Streitt 30 July 1948 - 27 July 2002

Spouse: Richard Alan Hernandez
Daughter: Elezabeth Marie Hernandez

Spouse: Terry Lee Browne
Daughter: Mary Elizabeth Angel Browne 6 November 1997 - 10 November 1997
Son: Joshua Lennon Browne
Spouse: Roger Wayne Fleming
Daughter: Katherine Marie Fleming
Son: Denver Wayne Fleming

Daughter: Kimberly Kay Hernandez

Spouse: Floyd Dwight Hartman
Son: Blake Adam Hartman
Son: Bradley Michael Hartman
Daughter/Son: Brice Channing Hartman
Daughter/Son: Sierra Desire Hartman

Daughter: Keri Lynn Hernandez

Spouse: Rodney William Fleming
Daughter: Aeriel Fleming
Son: Jordan Fleming

Spouse: Hilbert C Fenton

Son: John Fredrick Streitt

Daughter: Karolina/Caroline Gellner 1891-1965
Daughter: Pauline Isabell Gellner 1895-1958 Ancestry
Other
Obituaries
Edgar G. Westphal
Edgar G. Westphal, 62, of Munich, ND, died Wednesday, April 18, 2001 at Altru Hospital, Grand Forks, ND. Funeral services will be Saturday at 2 p.m. at Zion Lutheran Church, Munich. Rev. Charles Sheffler will officiate and burial will be in the Zion Lutheran Cemetery. Friends may call at the Gilbertson Funeral Home today from 12 noon until 9 p.m. with a prayer service at 7 p.m. and on Saturday at the church one hour prior to services.

Serving as pallbearers will be Edgar's sons.

Edgar George Westphal was born on Jan. 27, 1939 in rural Cavalier County, near Clyde, ND, the son on Rudolph and Eleanor (Backes) Westphal.

He was reared and educated there, graduating from Clyde High School.

He served in the United States Army for 2 years.

On Sept. 7, 1963 he was united in marriage to Susan MacArthur in Munich.

They established their home in Clyde until moving to Munich in 1966.

They farmed near Clyde until retiring in 1996. He served as postmaster in Clyde for several years and also was a rural carrier out of Munich until 1994.

He was an active member of the Zion Lutheran Church of Munich.

He is survived by his wife of 37 years, Susan of Munich, ND; sons, Bradley (Melissa) of Williston, ND, Michael (Donna) of Warroad, MN, Brian (Donella) of St. Cloud, MN, Matthew of Warroad, MN, Aaron of Grand Forks, ND and Adam at home in Munich, ND; grandchildren, Rebecca, Reggan, Jonathon, Anthony and Erica; sisters, Iona (Allan) DuBois of Langdon, ND, Retta (Pat) Klemisch of Thief River Falls, MN, Mary (Donald) Feldner of Starkweather, ND, Dorothy (Jim) Bassingthwaite of Watertown, SD and Faye (Larry) Schill of Lawton, OK. He was preceded in death by his parents and one brother, David.

Gilbertson Funeral Home of Devils Lake is in charge of arrangements.
Cecilia Gellner Lorenz
Cecilia (Cele) Lorenz, 85, of Langdon, ND passed away Thursday, December 14, 2006, at Maple Manor Care Center, Langdon, ND.

Cecilia Catherine Gellner was born June 8, 1921, in Perry Township, Cavalier County, North Dakota to Philip and Antholena (Moos) Gellner. She attended grade school in Perry Township and graduated from St. Alphonsus High School, Langdon, in 1938. Cecilia attended Valley City State Teachers College, Valley City, ND obtaining a life teaching certificate in elementary education. Cecilia had a lifelong interest in education, teaching in Loma and Perry Townships and St. Alphonsus Elementary School. In 1998 she was named an Honored Catholic Educator by the National Catholic Education Association.

On June 11, 1942, George B. Lorenz and Cecilia were united in marriage in St. Alphonsus Catholic Church, Langdon and together they farmed in Perry Township for 37 years until they retired in 1979 and moved into Langdon. George passed away April 13, 1986.

She was an active member of the community holding offices in many organizations, including St. Alphonsus Altar Society, Catholic Daughters of the Americas and Perry Homemakers. She was a member of the Maple Manor Auxiliary and a lector and Eucharistic Minister at St. Alphonsus Catholic Church for over 20 years. Cecilia immensely enjoyed entertaining friends and family and had a passion for cooking and playing bridge.

Cecilia is survived by her three sons and their wives, David George and Paula Lorenz, West Chester, PA, Timothy Michael and Jean Lorenz, Plymouth, MN and Gregory Allen and Diane Lorenz, Onida, SD; nine grandchildren, Sara, Luke, Kate, Shaun and his wife Lara, Denise, Kevin, Chelsea, Hannah and step-granddaughter Jessica and her husband Anthony Riddle; brothers, Raymond Gellner, Adelanto, CA and William Gellner, Fargo, ND; sisters, Mary (Phil) Tveten, Mesa, AZ, Elizabeth Landsem, Brier, WA and Beverly (Chauncy) Myers, Hillman, MN and several nieces and nephews.

She was preceded in death by her husband George, parents, sister Lorraine (Ralph) Stremick and her brother Michael J. Gellner.

Visitation: 3:00 p.m. Sunday at Brooks Funeral Home, Langdon and for one hour before the service on Monday at St. Alphonsus Catholic Church.

Prayer Service: 7:00 p.m. at Brooks Funeral Home followed by a Catholic Daughters Rosary.
Ralph Stremick
The Book: Langdon ND Centennial Edition 1888-1988

RALPH STREMICK Bio - page 450

Ralph Stremick was born 2 May 1903 at Langdon to Anton and Ann Kram Stremick. He married Lorraine Gellner, daughter of Phillip and Antholena Moos Gellner.

Lorraine was born 29 June 1916 and died 9 August 1969. They had five children, all born in Langdon, ND.

Donna Stremick married Gerald Coyle and they have two children: Carla and Gerald Michael. Carla is married to Craig Friday and lives in St. Paul, MN. Donna and Gerald reside in Cottage Grove, MN.

Gary Stremick married Toni pavlicek and they have two children: Scott and Suzann, they reside in Fargo, ND.

Kenneth Stremick married Dianne Knutson and they have two children: Corey and Stephanie and reside in Langdon.

Candace Stremick marrried Gary Bimler and they have two children: Chad and Stacey and they reside in both Fargo and Langdon.

Mark Stremick lives in Fargo. Ralph Stremick married Helen Johnson. --recorded 4/85
Gary Stremick
Obituary: http://www.inforum.com/content/gary-p-stremick-fargo
Gary P. Stremick, 59, Fargo, ND, died Sunday, June 9, 2002, in MeritCare Hospital, Fargo.

Gary Stremick was born Oct. 22, 1942, in Langdon, ND. He grew up on a farm and graduated from St. Alphonse High School in Langdon. He served in the US Army in Vietnam. After the service he moved to Fargo. In 1978 he began working for the ND Department of Transportation where he worked for 24 years. Gary and Toni Pavlicek were married in Fargo on May 5, 1984.

He lived his life with a positive and outgoing enthusiasm that was infectious. In life he was a beloved husband, father, grandfather, brother and friend.

He was preceded in death by his parents, Ralph and Lorraine Stremick, Langdon.

He is survived by his wife, Toni Stremick; sons, Scott Stremick, Omaha, NE, and Mike Pavlicek, Wolverton, MN; daughters, Sue Skiple, Redwood Falls, MN, Kathy (Steve) Barnes, Bozeman, MT, and Teri (Greg) Nowacki, Apple Valley, CA; eight grandchildren, Blaine, Derek, Cody, Will, Claire, Sophie, Kaylee and Callan; brothers, Kenneth (Dianne) Stremick, Langdon, and Mark Stremick, Fargo; sisters, Donna (Gerald) Coyle, Hillman, MN, and Candace (Gary) Bimler, Langdon; and many nieces, nephews, family and friends.

The family requests that memorials be sent to the Leukemia and Lymphoma Society, 5217 Wayzata Boulevard, Suite 221, St. Louis Park, MN 55416.

Visitation will be Tuesday, June 11, 2002, from 5-7 p.m. with a prayer service at 7 p.m., in Boulger Funeral Home, Fargo. Visitation will continue Wednesday, June 12, 2002, at 1 PM in Sts. Anne and Joachim Catholic Church, Fargo. The funeral will be Wednesday at 2 PM in Sts. Anne and Joachim Catholic Church. Interment will be in Holy Cross Cemetery, Fargo.

Arrangements by Boulger Funeral Home, Fargo.
Donna A. Westphal
Donna A. Westphal (April 22, 1965 - August 23, 2008)

Guest Book | Sign Guest Book | Send Private Condolences

Donna A. Westphal

Donna Adele Westphal, 43, passed away unexpectedly on Saturday, August 23, 2008, at her home in Warroad, Minnesota. Donna was born April 22, 1965 in Baudette, Minnesota, the daughter of Rex Jr. and Barbara Clay. Donna grew up and attended schools in several communities: New London, Browerville, Eagle Bend, Minnesota, and Edgewood, Iowa. She spent her high school years in Greenbush, Minnesota, and graduated from high school there. She was also a graduate of Thief River Falls AVTI.

Donna was united in marriage to Darryl Peterson on March 1, 1986, and they resided in Germany where Darryl was serving in the military. They had one daughter, Rebecca Leigh.

On June 28, 1992 Donna married Michael Westphal at Zion Lutheran Church in Warroad. Mike and Donna had one daughter, Reggan Deanna. They resided in Warroad where Donna was employed at Marvin Windows and Doors. Donna enjoyed spending time with her family and friends, and especially enjoyed fishing and bowling. She was a kind and generous person and had a multitude of friends. Donna touched many lives with her thoughtful ways and special gift of friendship. She was loved dearly and will be missed.

Donna is survived by her husband, Michael Westphal of Warroad; daughters: Rebecca Peterson of Mayville, North Dakota and Reggan Westphal at home; her parents, Rex and Barbara Clay of Warroad; brother, Daniel (Kelly) of Auburn, Alabama; sisters: Debra (Darin) Sapp of Ashland, Missouri, and Denise (John) Richards of Troy, Missouri; grandmother, Marjorie Hage of Halstad, Minnesota; mother-in-law, Susan Westphal of Munich, North Dakota; brothers-in-law: Bradley (Melissa) of Williston, North Dakota; Brian (Donella) of St. Cloud, Minnesota; Matthew (Janet) of Chesterfield, Missouri; Aaron (Ericka) of Grand Forks, North Dakota; and Adam Westphal of Munich, North Dakota as well as several nieces and nephews.

She was preceded in death by her grandparents: Rex and Dorothy Clay, and Leland Hage; her father-in-law, Edgar Westphal; one aunt, Kathleen Harper, and one cousin, Anita Hage.

Visitation will be Wednesday, August 27 from 5:00 to 8:00 p.m. with a prayer service at 6:00 p.m. at the Helgeson Funeral Home in Warroad.

Funeral services will be held Thursday, August 28, at 10:00 a.m. at Zion Lutheran Church in Warroad. Visitation will be one hour prior to the services.

Interment services will be at 4:00 p.m. on Thursday, August 28 at Zion Lutheran Cemetery in Munich, North Dakota.

Memorials may be sent to Make-A-Wish Foundation® of Minnesota (www.wishmn.org) or the Warroad Friends of the Library, Inc., to support children's books and programming at 202 Main St., Warroad, MN, 56763.
Franz Karl Gellner
Peter Gellner
Langdon, Cavalier County, North Dakota
Born: November 11, 1912
Death: December 01, 1980
Age At Death: 68
Christian Deutcher
Christian Deutcher 1677-?

Spouse: Unknown
Son: Johan Martin Deutcher 1746-1728

Spouse: Anna Maria Dill 1737 - 1798
Son: Konrad Martin Deutcher 1773-1840

Spouse: Anna Eva Weber 1773-1837

Daughter: Johanna Julianna Deutcher

Spouse: Johan Gellner
Son: Franz Karl Gellner
Heinrich Weber
Heinrich Weber

Spouse: Maria Katarina ?
Daughter: Anna Eva Weber
Susanna Löwenberg Gellner
Małgorzata Nerpas - This person had the maiden name of Löwenberg, and was born the same location in the same time frame.