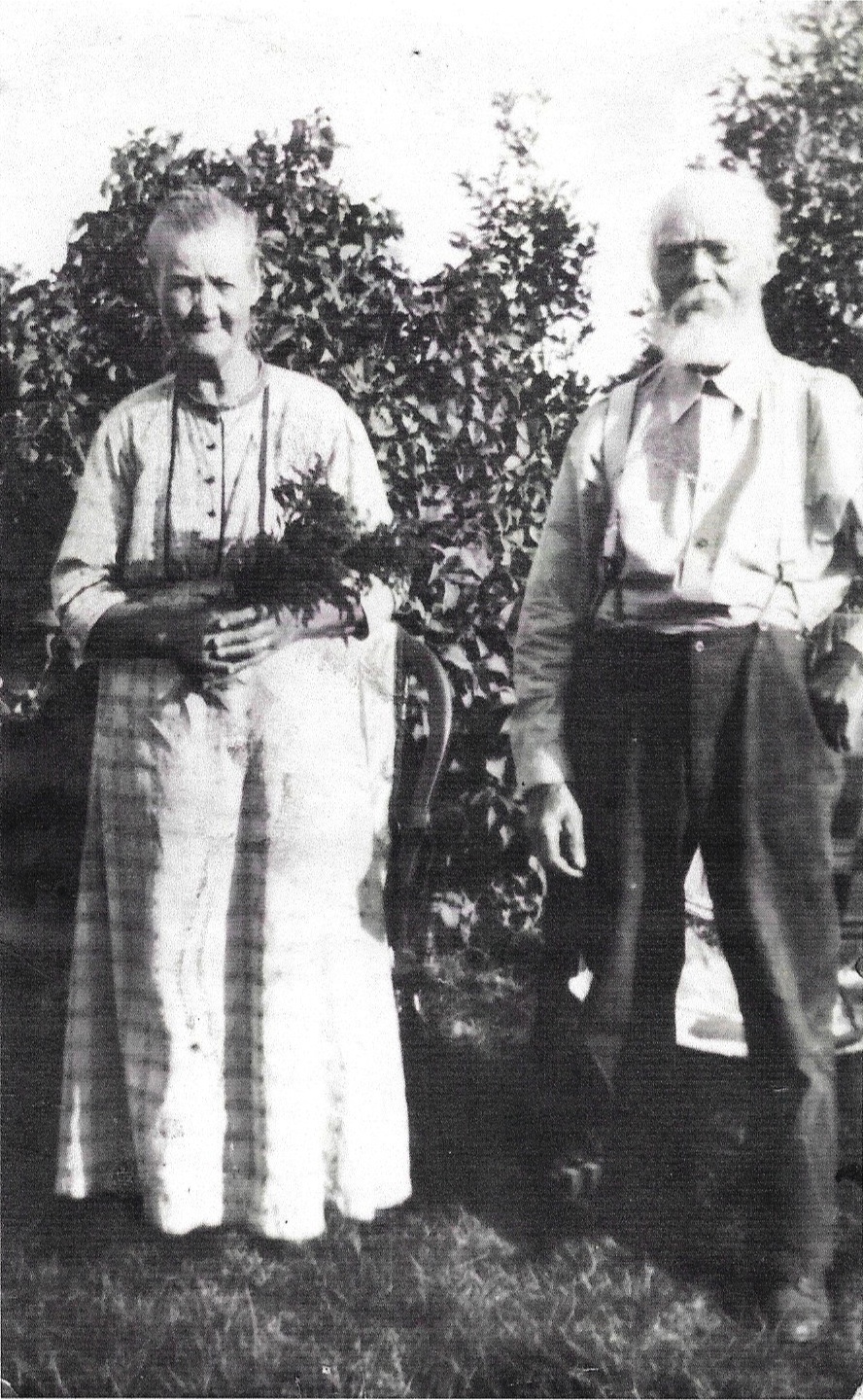 Carolina and Charles Frederick Linder
Charles Frederick Linder
My great-grandfather. AKA Carl F. Linder/Carl F. Anderson. He emigrated from Sweden through the Port of Philadelphia in April, 1882.

Grave information: 1858-1940

1910 Census - (Note that source indicates Earl F Linder, apparently a transcription error) http://www.rootsweb.ancestry.com/~wiburnet/census/1910index-l.htm
| | | | | | | | | |
| --- | --- | --- | --- | --- | --- | --- | --- | --- |
| LINDER | Earl F | 51 | M | W | Sweden | West Marshland Twp | 280 | A |
Census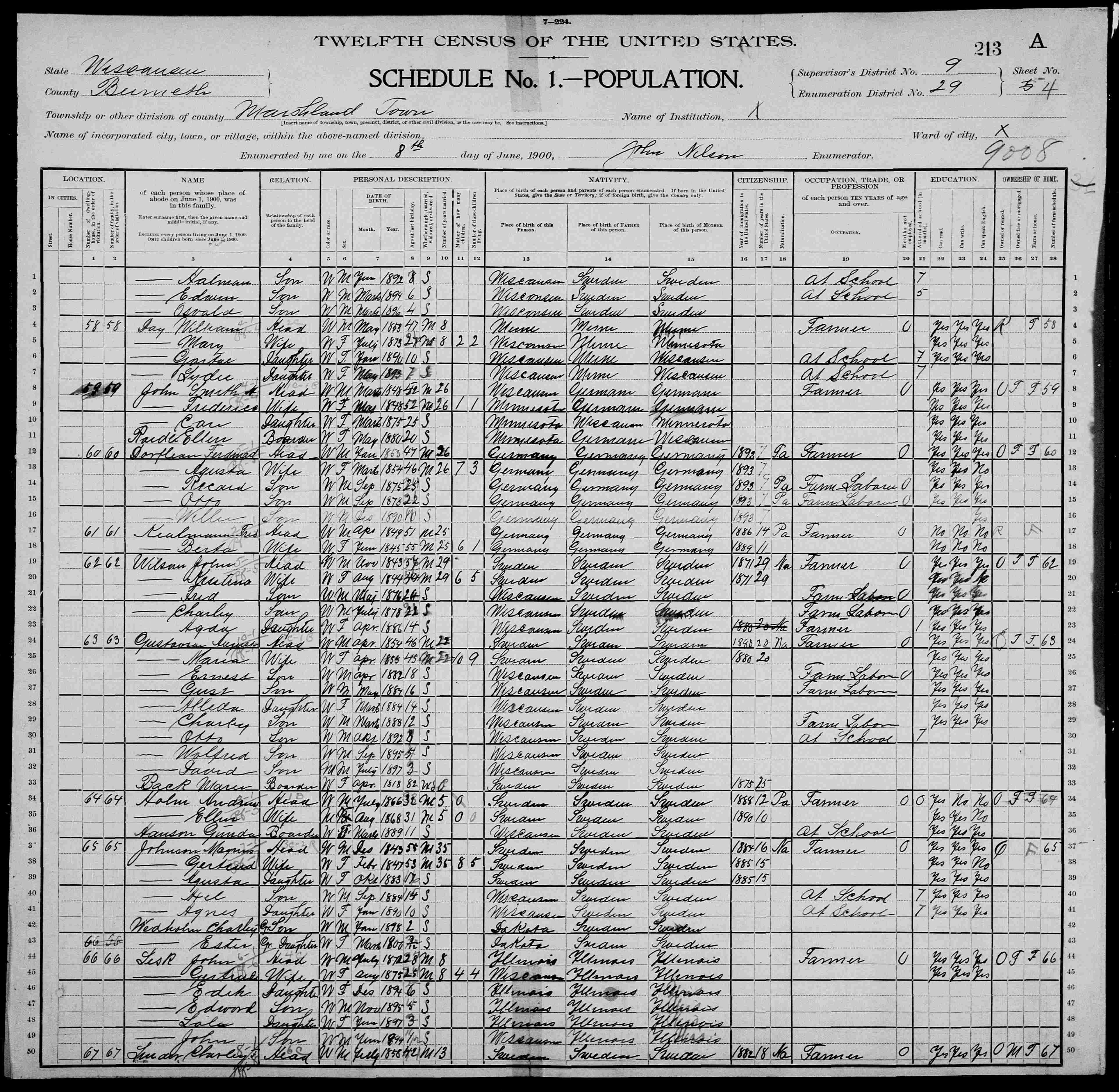 1900 Census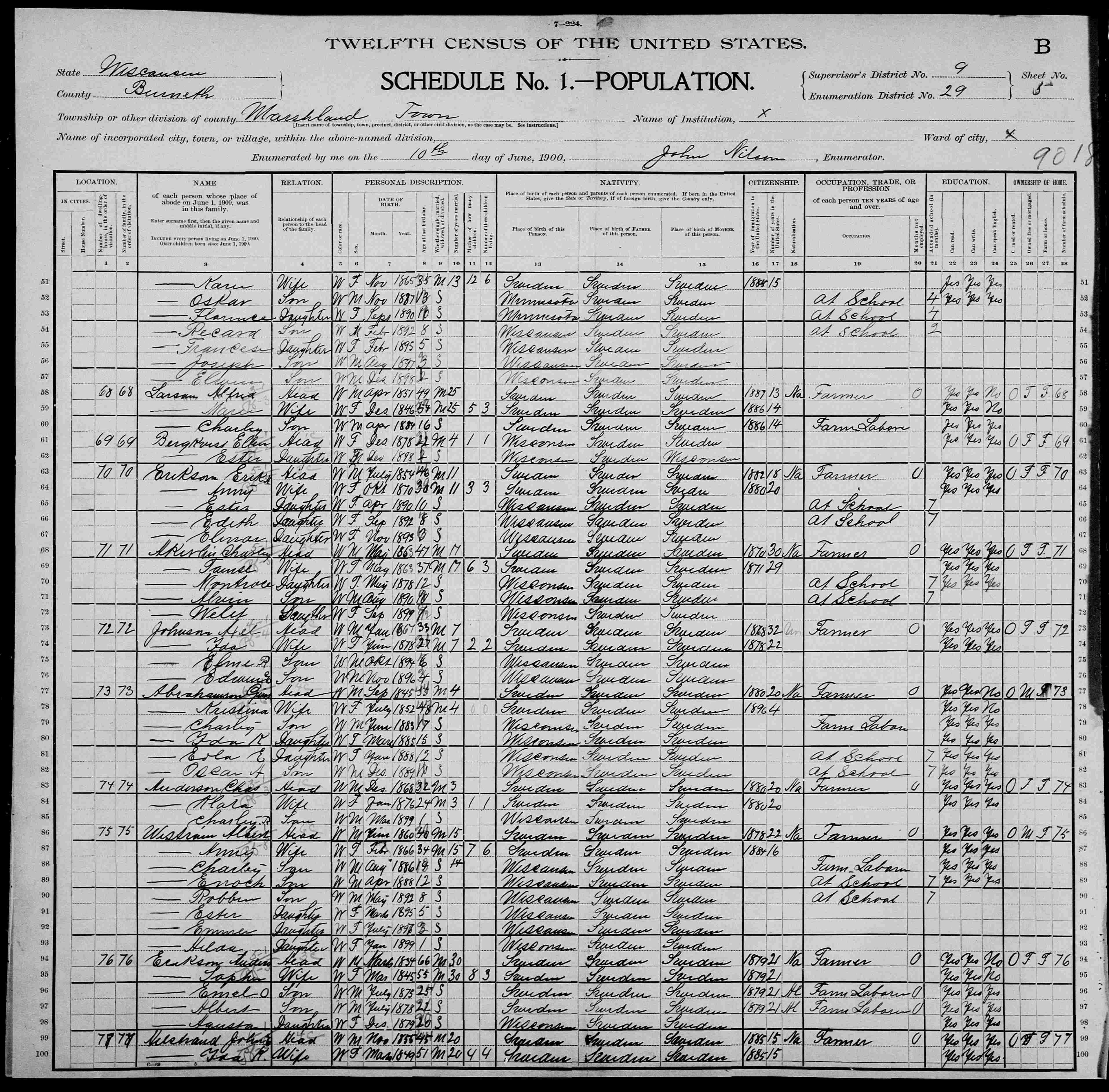 1900 Census
Spouse: William Phillip Uschmann 1872-1948
Daughter: Agnes Cecelia "Kitty" Uschmann

Spouse: Alva Chester Heaney
Son: Ned Hugh Heaney 16 Dec 1948 - 6 May 2015 Obituary

Ned Heaney passed away on May 6 in Placerville, Calif. He was born to Alva and Kitty Heaney on Dec. 16, 1948 in Sacramento, Calif.

Ned went to school in Placerville, graduating from Eldorado High School. He lived in Hawthorne for a time. Upon returning to California, he went on to become manager of a Wal-Mart store, as well as to own his own yogurt bar in the Placerville area.

Ned married Janet in Placerville and together they had one daughter, Krystal Heaney.

Ned is survived by his wife Janet of Placerville; daughter Krystal of Placerville; sisters: Beverly Gilbert of Fallbrook, Calif. and Trena Odom of Hawthorne, also many nieces and nephews.

A service will be held at First Southern Baptist Church, Saturday, Sep. 12 at 11 a.m.

Daughter: Beverly Ann Heaney (11 Jan 1952)
Daughter: Trena Coleen Heaney
Born: 29 Nov 1953
Died 16 Nov 2019
Son: Kalvin R. Heaney
Born: 31 Jan 1959
Died: 24 June 2015

Beloved son, brother, father and friend, Kalvin Heaney was born Jan. 31, 1959 in Placerville, Calif. To Alva and Kitty Heaney.

He passed from this life on June 24.

Kalvin went to school in Hawthorne and after school he joined the Army National Guard. During his life he traveled a bit in the U.S. before marrying Debbie Gilchrist. Together they had one daughter, Wendy Heaney.

Kal was a well-known face around Hawthorne for many years, as he worked in a few of the local businesses at various times, most recently as manager of the Sand and Sage Motel.

Surviving Kalvin are daughter Wendy Heaney of Fallon, Nev.; sisters: Beverly Gilbert of Fallbrook, Calif. and Trena Odom of Hawthorne and many nieces and nephews.

A service will be held at First Southern Baptist Church, Saturday, Sep. 12 at 11 a.m.
Richard Samuel Linder
(1892-1965)
Married Hilma Christine Lind
Twelve children
Daughter: Leona Marie Linder
Born: 29 November 1920
Died: 18 December 2003

Daughter: Kay Charlotte Anderson(1939)

Spouse: Gary Lee Johnson
Daughter: Kelly Lee Johnson (9 Mar 1960)

Son: Erick Jeffery (15 Mar 1978)

Daughter: Karrie Lynn Johnson (25 Feb 1961)
Son: Gary Lee Johnson Jr. (26 Dec 1962)
Daughter: Kim West Johnson (25 Sep 1964)
Daughter: Jackie Ann Johnson (6 Apr 1967)
Daughter: Nicole Marie Johnson (8 Apr 1976)

Son: Lane Curtis Anderson (27 Jun 1941)

Spouse: Bonnie Joey Leone Johnson
Son: Shannon Renee Anderson (1959)
Son: Corlin Lane Anderson (1963)
Daughter: Colleen Marie Anderson (1965)
Daughter: Tracy Joy Anderson (1967)
Daughter: Shellmarie Lynn Anderson

Spouse: Corey Arnold
Married: 20 October 1990

(1970)

Daughter: Betty Ann Anderson (2 Sep 1942)

Spouse: James Marlin Boyce
Daughter: Melanie Jean Boyce (14 Dec 1963)
Son: Chad James Boyce (4 Jul 1965)
Dana Allen (7 Apr 1969)
Angela Mae (24 Dec 1971)
Travis Lee (28 Jul 1975)
Spouse: Roger Kenneth Robbins on 1 August 2003

Son: Cody Lee Anderson (1955)
Spouse: Walter Leonard Rumple
Married: 21 Jul 1978)
Born: 1919
Died: 2001

Son: Roy Irving Linder (Died at birth, 1922)
Daughter: Lillian Caroline Linder (14 Apr 1925)
Son: Earl Richard Linder (12 Apr 1928 - 5 Feb 2013)

Spouse: Florence Leola Yonke
Son: Richard Harold Linder 18 March 1950
Daughter: Kathy Lee
Married Donald R Stokes

Daughter: Janet Viola Linder (17 Feb 1930)

Spouse: Charles G Anderson
Son: Wade Charles Anderson 14 Sep 1951

Spouse: Jean Ann White
Son: Noah M Anderson

Son: Craig Curtis Anderson 23 Aug 1954

Spouse: Patricia J Lesher

Son: Brent Karl Anderson 27 Jan 1956

Spouse: Jean M Spychalla Married 15 May 1981

Daughter: Sharlene Kay Anderson 15 Jan 1958
Son: Kevin Jay Anderson 26 Feb 1963 Married 5 May 2000

Spouse: Cathleen A Semerad

Daughter: June Hazel Linder (7 Jun 1931)

Spouse: Curtis J. Waldhoff (13 Nov 1917 - 21 Jan 2014) on 31 Dec 1950.
Grave Obituary
Daughter: Linda Mae Waldhoff
Daughter: Robin Rae Waldhoff
Daughter: Jolayne Marie Waldhoff

Spouse: James Antolik on 3 November 1978
Daughter: Jennifer Marie Antolik

Spouse: Michael David Frost on 22 April 2007

Daughter: Stephanie Antolik
Daughter: Brittany Ann Antolik

Spouse: Joshua Thomas Phelps on 3 August 2012

Daughter: Courtney Antolik
Son: Nicholas Antolik (Deceased)

Scot (deceased)

Daughter: Joyce Geraldine Linder (8 Jan 1934)
Daughter: Diane Marge Linder (3 Jan 1937)

Spouse: Blaine Donald Olson
Daughter: Kristie Diane Olson

Spouse: James Fredrick Harris 2 October 1978
Son: James Fredrick Harris
Spouse: David Allen Bucholz 21 March 1991

Son: David Blaine Olson

Spouse: Paula Jean Artman (former)

Son: Chad Alan Olson 11 April 1965 - 19 July 2014

Olson, Chad Alan Born April 11, 1965. Died at home in St. Paul July 19, 2014. Graduate of Spring Lake Park High School and Metropolitan Univ. of St. Paul. Longtime employee of Proex. Sadly missed by daughter Heather Wright of Oakdale; parents, Blaine & Diane Olson of Blaine; sister Kristie Buckolz (David) of Anoka; brother, David Olson of Fridley; niece and nephew, Jim and Kaylie; and a host of friends. Celebration of life gathering Sunday, Aug. 3 from 1-4 PM at Greenhaven Golf & Banquet Center, 2800 Greenhaven Rd., Anoka, 55303.

Son: James William Linder (10 Feb 1941)
Jeffery L Linder (1945-1946) (Not in other family trees)
Frances Edith Linder Furhman
Four children
Daughter: Lucille Furhman

Daughter: Dorla Jean Halsall (16 Aug 1941 - 1 Jan 2007).
Obituary

Spouse: Michael H Tolson
Daughter: Deborah Tolson
Born: January 25, 1963

Spouse: James C Armstrong Married 1983
Daughter: Ashley Lynn Armstrong
Born: October 3, 1986

Son: Steven Tolson
Born: March 7, 1965
Spouse: William R Briggs (6 Mar 1930 - 6 June 2011)

Son: Robert James Halsall (23 Nov 1943 - 16 Jul 2012)

Obituary
Spouse: Judy
Son: Robert James Halsall
Son: Darnell Gilbert "Dan" Halsall
Daughter: April Lynne Halsall
Son: Jason Walter Halsall
Grandchildren: Mathew Halsall , Jeremy, Richelle Halsall , Blake, Alex, Emily Hayes , Josh, Tyler, Brandon, Lauren
Great-grandchildren: Travis, Gavin and Mason

Daughter: Norma Jean Halsall (17 October 1946)
Daughter: Paula Jean Halsall
Born: 30 October 1952

Spouse: ? Mohorich
Daughter: Alison Ann Mohorich
Born: 29 Oct 1978

Spouse: ? Loma
Daughter: Samantha Loma

Son: Justin Mohorich
Spouse: Frank William Link

Daughter: Lillian Furhman

Son: Randy Eugene Salyers (19 Oct 1953 - 2003)

Spouse: Debra Ann McCartney 19 October 1975
Spouse: Tracy A Green 31 December 1982

Son: Dale R Salyers (21 Jul 1958)

Daughter: Laverne Furhman

Son: Mark Marson

Spouse: Lori Madding
Son: Mark Marson Jr.
Daughter: Megan Marson
Daughter: Tasha Marson

Son: Scott Marson

Son: John Furhman (Deceased)
Spouse: Frieda Starke/Utermark/Ericson
Joseph Nathaniel Linder
My grandfather

Eight children
Son: Elvin John Leroy (1 Jul 1920 - 4 Apr 2009)
Son: Gunnard Frederick (16 Apr 1923 - 5 Nov 2015)

Gunnard Linder

Obituary (Legacy.com)

Gunnard was born on April 16, 1923 and passed away on Thursday, November 5, 2015. Gunnard was a resident of Frederic, Wisconsin at the time of his passing. He was married to Marjorie. Funeral services will be held on Tuesday November 10 2015 at Zion Lutheran Church in Trade Lake - visitation will begin at 10:00 a.m. followed by the service at 11:00 a.m. with Rev. Tom McShannock officiating. Gunnard will be laid to rest at Zion Lutheran Cemetery following the service. His grandchildren will be Pallbearers.

Obituary (Rowe Funeral Home)

Gunnard Fredrick Linder (92) went to be with the Lord on November 5, 2015 after spending five months at the Frederic Nursing Home. Gunnard was born to Joseph and Elizabeth Linder on April 16, 1923 in Lincoln Township, Wis. where he spent his childhood years. Later, the family moved to Maple Valley, Wis. Gunnard had several jobs through his early years such as putting up electrical highline poles, wood cutting, log hauling and a milk route. Gunnard always loved music and taught himself to play the guitar. He sang on the WDGY radio amateur hour with Slim Jim and the Vagabond Kid in 1939. Gunnard married Marjorie Olson on July 29, 1944. He was inducted into the army on April 5, 1945 to serve in World War II. His first child, Gloria, was born while he was in the service. Four children were born to them, Gloria, Gary, Larry and Lorie. In 1964 they added three sisters to the family, Kathy, Celia and Lillian Wichelmann. During those years Gunnard worked at Stokely's canning factory, a car dealership in Falun and a cement factory in Frederic. He attended Auto Body Repair school in Chicago and worked at Rudell Motor Company in Frederic from 1949-1955. He then started his own business and built Linder Body Shop in 1956 and he retired in 1975. Upon retirement, he kept busy with mowing lawns, snow removal and craft projects. He was an active member of the American Legion Post since 1982. He and his wife were faithful members of Zion Lutheran Church Trade Lake where he served as church Treasurer for many years. Gunnard leaves to mourn his loving wife of 71 years, Marjorie, his children, Gloria (Jerry) Krueger, Gary (Debra) Linder, Larry (Gloria) Linder, Lorie Linder, Kathy (Stanley) Moe, Celia (Scott) Johnson and Lillian (Buddy) Lee , Grandchildren- Brendon Krueger, Chandra Malmquist, Juanita Lueders, Cody Linder, Zebulon Linder, Micaela Stenner, Jordan Linder, Hannah Fenton and Great-Grandchildren Liam Krueger, Madeline Krueger, Kyle Malmquist, Eli Malmquist, Aurela Lueders, Krixus Lueders, Kenna Stenner, Gage Stenner and Camber Stenner. Brothers, Rudy (Muriel), Marvin (Janice) and Gordon (Beverly) Linder and sister Melba Epperle, nieces, nephews, many other relatives and friends. He is preceded in death by his parents Joseph and Elizabeth, brother Elvin, an infant brother and sister and Great-Granddaughter Bianca Stenner.

Funeral services will be held on Tuesday, November 10, 2015 at Zion Lutheran Church in Trade Lake - visitation will begin at 10:00 a.m. followed by the service at 11:00 a.m. with Rev. Tom McShannock officiating. Gunnard will be laid to rest at Zion Lutheran Cemetery following the service with his grandchildren as Pallbearers. Full Military Honors will be presented by American Legion Post 249.

You are invited to sign an online guestbook at www.rowefh.com . Arrangements are entrusted to Rowe Funeral Home in Frederic, 715-327-4475.

Daughter: Lorie Linder

Son: Rudolph Walfred (2 Aug 1928 - 6 September 2018)

Spouse: Muriel LaVerne Dado
Son: Roger Dale Linder
Son: Michael Scott Linder
Son: Tracy Karen Linder

Son: Gordon Charles (5 Jan 1942)
Elvin Theodore Linder
Two children
Born: 10 December 1898
Died 3 September 1954

Spouse: Olga Elizabeth Lind
Born: 24 May 1897
Died: 14 March 1978
Daughter: Rosalie Theodora Linder

Frank, Rosalie T. Age 88 (born Mar. 7, 1921), of North Branch, passed away Dec. 2 2009 . Survived by children, Shannon (Ken) Kanan of St. Croix Falls, WI Loren (Judy) Frank of Webster, WI; 3 grandchildren; 12 great-grandchildren; and 1 great-great-granddaughter. Funeral Service held Tuesday 11 AM at Grandstrand Funeral Home, North Branch with visitation 1 hour prior. Interment Trinity Lutheran Cemetery. Rose & Lyle had 2 children, Loren Robert & Shannon Rosalie.

Obituary

Rosalie Theodora Frank age 88 of North Branch, passed away on Dec. 2, 2009 at Fairview Lakes Regional Hospital in Wyoming.

She was born to Elvin and Olga (Lind) Linder on March 7, 1921 in Harris. On Dec. 22, 1938 Rosalie Linder was united in marriage to Lyle H. Frank.

Rosalie spent most of her adult life in the Minneapolis area. She loved to shop and was not afraid to buy.

Rosalie always looked her best no matter the situation. She was a very hardworking woman not afraid to get her hands dirty. She and Lyle spent much of their free time ballroom dancing with friends. After Lyle passed away she joined the group "Silver Stars", this was a Tap Dance group from Blaine. She had a huge network of friends and will be remembered for being a good Christian.

Rosalie is survived by her loving family: children Shannon (Ken) Kanan of St. Croix Falls, Wis., Loren (Judy) Frank of Webster, Wis. Grandchildren Mindy (Mike) Havlish, Brett Frank and Craig (Becky) Frank. 12 great-grandchildren, one great-great-granddaughter.

Rosalie was preceded in death by her husband of 42 years Lyle, sister LeAnn, parents Elvin and Olga Linder, grandson Dodd Kanan.

Funeral service was held Tuesday, Dec. 8, 2009 at Grandstrand Funeral Home in North Branch at 11 a.m. with Rev. Dr. Margaret Guelker officiating.

Visitation was held one hour prior to the service at the funeral home.

Interment was at Trinity Lutheran Cemetery in North Branch.

Arrangements conducted by Grandstrand Funeral Home in North Branch.

Spouse: Lyle Herbert Henry Frank
Son: Loren Robert Frank
Born: 14 Jul 1939

Married: May 20, 1961
Spouse: Judith Eileen West
Son: Brett Wayde Frank, Sr.
Born: 03 Jan 1964
Son: Craig Robert Frank
Born: 19 Jan 1967

Daughter: Shannon Rosalie Frank
Born: 05 Sep 1941

Spouse: Kenneth Anthony Kanan
Daughter: Mindy Lynn Kanan
Born: 06 Dec 1960

Married: 13 Jun 1980
Spouse: Michael George Havlish
Son: Dustin D Havlish

Spouse: Elizabeth
Son: Elliot William
Daughter: Eden Rose Havlish
Born 24 February 2012

Daughter: Kelsey Havlish

Son: Dodd Anthony Kanan
Born: 07 Apr 1963
Died: 1 January 1985

Daughter: Leann Elizabeth Linder Jan. 6, 1942 - Mar. 13, 1994 Unmarried
David Emanuel Linder

Born: 13 December 1904
Died: 28 April 1957 Eleven children
Son: David Leroy (14 Feb 1931 - 11 Feb 2018)

Spouse: Barbara Cathrine Gibson
Married: 13 Oct 1951
Born: 31 Aug 1936
Died: 22 Jan 2003

Friday, January 31, 2003

Barbara C. Linder, 66 Aug. 31, 1936 - Jan. 22, 2003

Barbara C. Linder, of rural Osceola, died suddenly Wednesday, Jan. 22 at the Osceola Medical Center.

She was born in Alden township on Aug. 31, 1936 to Miles and Rose (Wells) Gibson. Barbara married David Linder on Oct. 13, 1951 in Balsam Lake.

She was preceded in death by her parents, two brothers, two sisters, and nine half-brothers and sisters.

She is survived by her husband, David of Osceola; three sons, Daniel (Kim) Linder of Cloquet, Minn., Timothy (Edna) Linder of Green Bay, Jeffrey (Shirley) Linder stationed in Germany; two daughters, Kathy (Gus) Hochstetler of Milltown, Jackie (Randy) Otto of Rochester, Minn.; 20 grandchildren; four great-grandchildren; one brother, David (Frances) Gibson of Salem, Mo.; and one sister, Ruth (Donald) Larsen of Dresser.

Visitation was held Saturday, Jan 25 at West Immanuel Lutheran Church followed by funeral services with Pastor Rex Brandt officiating. Organist was Diane Kammerud and soloist was Barbara's granddaughter, Emily Anderson. Casketbearers were Jason Linder, Dale Bottolfson, Philip LaMere, Ronnie Gibson, Clifford Swenson and Doug Larsen. Burial was in the church cemetery.

Beebe Mortuary assisted with arrangements.

© 2003 New Richmond News - Reposted by permission http://www.newrichmond-news.com/main.asp?Search=1&ArticleID=259&SectionID=3&SubSectionID=54&S=1

Son: Daniel Lee Linder
Born: 1955
Son: Timothy Linder
Son: Jeffrey Linder
Daughter: Kathleen Fay Linder
Born: 06 November 195
Daughter: Jacqueline Linder

Son: Gerald Eldon Linder
Born: 18 May 1932
Died: 16 Sep 2006

Spouse: Laura Elizabeth Gibson
Born: January 25, 1935
Died: Died April 17, 1976
Daughter: Juanita Linder
Spouse: Arlene Dorothy Peterson
Daughter: Connie Jo Linder
Born: 21 April 1957

Spouse: Timothy Carl Heinrich
Married: 11 June 1994
Son: Orion Timothy Heinrich
Born: 20 January 1993

Son: Todd Allen Linder
Born: 14 August 1961

Spouse: Denise Marie Teich
Married: 10 November 1984
Daughter: Amber Marie Linder
Born: 19 December 1985

Spouse: Jason Johnson
Daughter: Chloe Geneva Johnson
Born: 31 October 2011

Daughter: Ashley Lynn Linder
Born: 23 January 1989

Spouse: Jeremiah David Slama
Married: 24 July 2010
Daughter: Alexis
Daughter: Bailee

Daughter: Angela Elizabeth Linder
Born: 12 July 1993

Son: Gregory Gerald Linder
Born: 27 July 1966
Spouse?: Anderson
Married 14 July 1978
Spouse?: Mary E Johnson
Divorced: 17 December 1984
Spouse: Jean Laraye Ellefson
Married: 5 Sep 1987

Son: Ronald Wayne (16 May 1934)

Spouse: Joanne Louise Thompson (31 Mar 1939 - 18 Dec 2010)
Daughter: Sandra (Rick) Goerdt of River Falls, Wis. B: 1958-01-23
Son: Harlen Wayne Linder B: 29 June 1959 D: 5 July 1959
Daughter: Julie (Mike) Talmadge of Luck, Wis. Born 1960
Son: Kevin Linder of New Richmond Born 1962
Daughter: Rebekah (Matt) Tilbury of Pine River, Minn. Born About: 1968
Daughter: Sarah (Todd) Miller of Hudson, Wis. Born: February 1970
Daughter: Rachael Ann Linder-Meyer of New Richmond, Born: August 24, 1971

Spouse?: Ethan Meyer
Daughter: Kasee Meyer
Daughter: Melanie (Darin) Randall of Clayton, Wis. Born about 1975

Son: Roger Allen (24 Jan 1936)

Spouse: Karen H Lindquist (M: 6 Jun 1959)
Daughter: Laura Linder Born: 8 Nov 1963

Daughter: Carole Adelle Linder (6 May 1937)

Spouse: Raymond William Shern Born 1933 Married 3 Jan 1957 Died 2007
Daughter: Laura J Shern (1958)

Spouse: Thomas E Jensen
Married 1 March 1980

Daughter: Renee Shern
Son: John Shern
Son: Tom Shern
Daughter: Peggy Ann Shern Born about 1959

Spouse: Richard Ronald Helms married 16 Jun 1984
Spouse: Watson married 22 October 2009

Son: Raymond Gene Linder (15 Sep 1939)

Spouse: Caroline B Hanson (8 Aug 1959)
Son: Scott Eugene Linder
Born: 29 Jun 1966

Spouse: Debra Ann Holfeltz
Born: About 1961/1962
Married : 7 May 1988 in Manitowoc, WI
Daughter: Heidi Marie Linder
Born: 22 November 1988
Daughter: Francesca Priscilla Linder
Born: 25 March 1992
Daughter: Diana Ann Linder
Born: 19 December 1990

Daughter: Susan Marie Linder
Born: 11 Jun 1964

Spouse: James Michael Tahedl
Married: 25 January 1986
Son: Brandon Michael Tahedl
Born: 18 June 1986
Son: Derek James Tahedl
Born: 06 September 1992

Daughter: Sharon Kay Linder
Born: 23 May 1973?
Son: Bruce Allen Linder
Born: 20 January 1963
Son: Steven Linder
Daughter: Patricia Ann Linder
Born: 10 April 1961

Spouse: Daniel Joe Vold married 21 May 1983, Hennepin County, Minnesota
Daughter: Christina Lynn Vold

Son: Dennis Mark Linder (10 Dec 1940)

Spouse: Mary Jo Stalberger
Daughter: Cheryl Linder

Son: Michael Dean Linder
Born: 26 Mar 1943
Died: 14 Sep 2013
Memory Facebook
Married Harriet Foust (1 Sep 2000)
Son: Douglas Neill (5 Nov 1944)

Spouse: Anna Belle Cran
Daughter: Molly M Linder
Born: 27 August 1969
Son: Patrick Niell Linder
Born: 4 February 1971
Daughter: Melissa Carol Linder
Born: 05 December 1973

Spouse: Randall Allen Rock
Daughter: Whitney Ann Rock

Son: Eric Douglas Linder
Born: 08 September 1976

Daughter: Judith Rae Linder
Born: 15 December 1945

Spouse: Henry Brockpahler Died 27 Sep 2022
Daughter: Elizabeth Ann Brockpahler
Born: 8 August 1975

Spouse: Christopher A Utecht
Married 3 April 1993
Son?: Bryan

Possible associations: Carrie Mielke Warren Utecht Gregory Utecht Carolyn Brockpahler
Daughter: Christine Kay Brockpahler Chris Brockpahler
Daughter: Michele Brockpahler

Spouse: David Osero
Son: Zachary

?Carolyn Brockpahler (Class of 1977). Perhaps a step daughter. Associated with Henry Brockpahler and Stephen Brockpahler

Spouse: Jeff Wickware
Spouse: Bill Edmonson
Others not yet categorized
Jeri Corrine Linder
Born: 24 January 1959 (Father, Norman Wesley Linder/Mother Mona/Nora Lisa Wenk)
Don't think she's related, despite some mutual Linder friends on FB

Spouse: Patrick Maes
Married: 03 February 1980 in Los Angeles, CA

Joseph D Linder

Spouse: Sarah
Married 24 September 2011
Daughter: Aubrey Rose Linder

Ashley Catherine Linder

Spouse: Jason Mitchell
Married: 1 July 2006

Son: Jason Richard? Linder
Born: 13 November 1974
Mayme Victoria Linder Lind
Married Walter Lind. Ten children
Walter Rudolph Linder
Six children
Born: 24 January 1908
Died: 25 November 1977
Married: 18 June 1932
Spouse: Beatrice Lenore Meyer
Born: 4 June 1916 (or 6 April 1916)
Died: 31 March 1992 31 March 1992
Daughter: Darlene Ardella Linder
Born: 15 October 1933
Died: 7 Aug 2004 grave 7 August 2004

Darlene Ardela Young
Thursday, August 12, 2004

Born 10-15-1933 -- Died 8-7-2004

Darlene Ardela Young, 70, of Salem, Ark., daughter of the late Walter Rudolph and Beatrice Meyer Linder was born Oct. 15, 1933, in Wisconsin.

She died Aug. 7, 2004, at her home.

She was united in marriage to Mark D. Young. She spent her working years as a wife, mother, grandmother, great-grandmother, and a homemaker.

She was a member of Ash Flat Church of Christ.

She spent many hours volunteering for Salem Head Start, Salem Girl Scouts and the Ash Flat Church of Christ Clothing Store.

Survivors include three sons -- Martin Wagner of Little Falls, Minn., Ray Young and wife, Debbie, of Salem, and Ron Young of Salem; four daughters -- Luella Kempfer and husband, Chuck, of Marble Hill, Mo.; Alethea Cash and husband, Russell of Banning, Calif, Wanda Johnson and husband, Bob, of Monette, Mo., and Norma Webb and husband, Clinton, of Eucha, Okla.; a sister, Edith Brandstead of Iowa 15 grandchildren; and 20 great-grandchildren.

She was preceded in death by her husband, parents, and a son, Rob Young.

A graveside funeral service and interment was Aug. 9 at the Humphries Cemetery at Glencoe, Ark., with Keith Gregson officiating. Arrangements were under the direction of Barker Funeral Home of Salem, Ark.

Spouse: Walter Wagner
Daughter: Luella Hazel Wagner
Born: 19 April 1950
Died: 15 January 2006

Luella Kempfer Tuesday, January 17, 2006

MARBLE HILL, Mo. -- Luella Hazel Kempfer, 55, of Marble Hill died Sunday, Jan. 15, 2006, at her home.

She was born April 19, 1950, in Black Duck, Minn., daughter of Walter and Darlene Linder Wagner. She and Charles Kempfer were married March 15, 1975, in Ontario, Calif.

Kempfer was a member of Harmony Congregational Methodist Church.

Survivors include her husband; two sons, Bryan and David Kempfer of Marble Hill; two daughters, Leah Bequette of Cape Girardeau, Sandra Coomer of Jackson; three brothers, Martin Wagner of Minnesota, Ray and Ron Young of Arkansas; three sisters, Alethea Cash of California, Norma Webb of Oklahoma, Wanda Johnson of Missouri; and six grandchildren.

She was preceded in death by her parents and a brother.

Friends may call at Liley Funeral Home in Marble Hill from 4 to 8 p.m. Wednesday.

The funeral will be at 10 a.m. Thursday at the funeral home, with the Rev. Jack Leslie officiating. Burial will be in Kempfer Family Cemetery near Marble Hill.

Spouse: Chuck Kempfer
Married: 15 March 1975
Son: Bryan Kempfer
Son: David Kempfer
Daughter: Leah Marie Kempfer
Daughter: Sandra Kempfer

Spouse: Vade Frederick Mansker
Daughter: Alexis Taylor Mansker
Born: 23 February 1994
Spouse: Jeff? Barnicle
Spouse: Rodney Lane Coomer
Daughter: Abigail Linda Marie Coomer
Born: 31 October 2003

Daughter to Rodney Lane Coomer and Sandra D. Barnicle of Jackson, Southeast Missouri Hospital, 1:20 a.m. Friday, Oct. 31, 2003. Name, Abigail Linda Marie. Weight, 8 pounds. Fourth daughter. Ms. Barnicle is the former Sandra Kempfer, daughter of Charles Kempfer and Luella Kempfer of Marble Hill, Mo. She is employed at Center of Oral Surgery. Coomer is the son of William Coomer of Whitewater and Melva Crowell of Scott City. He is employed at Plaza Tire Service.

Daughter: Alethea Mary Wagner
Born: 22 Jun 1951

Spouse: Russell Cash
Son: Mike Cash
Son: Allen Cash

Daughter: Wanda Darlene Wagner October 5, 1953

WANDA DARLENE JOHNSON Wednesday, November 16, 2011

Wanda Darlene Johnson, 58, of Wheaton, passed away Wednesday, Nov. 9, 2011, in her home.

She was born Oct. 5, 1953, in Minneapolis, Minn., the daughter of Walter Robert and Darlene (Linder) Wagner, who preceded her in death. Also preceding her in death were two brothers, Ron Young and Robert Young, and one sister, Luella Kemphor.

Survivors include: her ex-husband, Bobbie Johnson, of Wheaton; two brothers, Martin Wagner and his wife, Debbie, of Kentucky, and Ray Young and his wife, Debbie, of Salem, Ark.; two sisters, Alethea Cash, of Jay, Okla., and Norma Webb and her husband, Clint, of Eucha, Okla.; and a sister-in-law, Kelly Johnson, of Rogers, Ark.

She received her education in Dover, Ark. She lived in Rogers, Ark., several years before moving to Missouri seven years ago.

No services are scheduled at this time. Cremation arrangements are under direction of McQueen Funeral Home, Wheaton.

Visit www.fohnfuneralhome.com for online obituaries, guestbook and private condolences

McQUEEN FUNERAL HOME

Wheaton, Missouri

417-652-7268

Son: Martin Robert Wagner
Born: 26 Sep 1958
Daughter: Norma May Wagner

Spouse: Daniel Young
Daughter: Canda
Daughter: Darlenea Young

Spouse: Clinton Crile
Son: Josh Crile
Daughter: Chelsea Crile
Son: Adam Crile

Son: Daniel Young
Spouse: Clinton Webb

Spouse: Mark David Young (1933-1999)
Son: Raymond Young

Married: 15 July 1985
Spouse: Debbie
Children: 3

Son: Ronald David Young (1967-2009)
Son: Robert Mark Young (1968-1987)

Daughter: Edith C Linder
Born: about 1935 (13 September 1934? Died: 11 June 2008?)
Branstad family reunion info

Edith Caroline Branstad

ST. ANSGAR — Edith Caroline Branstad, 73, of St. Ansgar, died Wednesday (June 11, 2008) as a result of injuries sustained in an automobile accident.

Funeral services will be held at 2 p.m. today, June 14, at St. John's Lutheran Church, 1202 390th St. rural Osage, with the Rev. Wayne Ellingson officiating.

The family greeted relatives and friends from 5 to 7 p.m. Friday, June 13, at Schroeder & Sites Funeral Home in St. Ansgar.

With her green thumb, she grew not only children but plants, orchids being her favorites. Those throughout the antique world know her of one "in the know." She lived a not long enough life. We thank you Mama for what you have given us.

She was preceded in death by her parents, stepfather, and one sister.

Edith is survived by her husband and soul mate of 49 years, Iver Dean Branstad; five sons, Edward C. (Sandy) Branstad of Mason City, Darwin D. ( Deneen ) Branstad of Mason City, Vernold D. (Jean) Branstad of Copperas Cove, Texas, Jeffery B. (Kathy) Branstad of St. Ansgar and Jonathan L. ( Brandy ) Branstad of Nora Springs; two daughters, Lenora L. (Scott) Freeman of Elmore, Ohio, and Jodie L ( Cole ) Elliott of Bayard, N.M.; 13 grandchildren; and eight great-grandchildren.

Edith will be laid to rest at a private family burial.

Schroeder & Sites Funeral Home, 641-713-4920.

Spouse: Edward Charles Dittburner
Married: 27 October 1951
Divorced: after December 1957

Mason City Globe-Gazette - Mason City, Iowa - Dec 24 1957 Newspaper Archive Text: "... Dittberner from Edward Charles Dittberner on grounds of cruel and inhuman treatment Married Oct 28 1951 in Minneapolis separated Nov 9 1957 two children She asks care custody and control of the two children..." Date: Dec 24 1957 Publication: Mason City, Iowa, United States of America

Son: Edward Charles Dittburner/Branstad
Son: Darwin Delbert Dittberner/Branstad
Born: 5 July 1954
Died: 14 December 2022

Spouse: Deneen Jones
Born: 28 February 1964
Died: 4 June 2020
Son: Ryan Branstad
Son: Jeremy Branstad

Spouse: Valerie
Son: Joseph Branstad

Spouse: Iver Dean Branstad
Married about 1959
Son: Vernald Dean Branstad
Daughter: Lenora Lee ("Lori") Branstad

Spouse: Stone?
Son: Louis Greg Stone
Spouse: Freeman

Daughter: Jodie L Branstad aka Jodie Branstad-Elliot
Son: Jeffery/Jeffrey Bennett Branstad
Son: Jonathan L. Branstad

Daughter: Annette Marie Starkite (Living in Webster, WI.)
Daughter: Linda Kay Linder Born 28 March 1959
Son: Walter John or Edean? Linder
Born: 16 May 1960
Married: 01 May 1982
Spouse: Becky Jo Breuer

Son: Walter Edean Linder (Jr?)
Daughter: Heather J Linder
Daughter: Jennifer M Linder

Daughter: Hazel Caroline Linder
Born 11 January 1962
(father of Katherine Kline Branstad)
ST. ANSGAR, IOWA - James Edward Kline, 61, of St. Ansgar, died on Thursday, June 1, 2000, at the Mercy Medical Center-North Iowa in Mason City, Iowa.

Funeral services will be held at 3 p.m. Sunday at the Immanuel Lutheran Church in St. Ansgar, with the Rev. Edward Schmidt officiating. Burial will be in the St. Ansgar Cemetery, with Military honors conducted by the Walter T. Enneberg Post No. 358 of the American Legion.

Visitation will be held from 5 to 8 p.m. today at the Schroeder & Sites Funeral Home in St. Ansgar.

Jim was born on October 24, 1938, in Faribault, Minnesota, the son of William and Agnes (Trench) Kline. He graduated from St. Ansgar High School in 1957. He served in the U.S. Army in February of 1960 and was honorably discharged in February of 1963. He also served in St. Ansgar as a dedicated volunteer fireman for 30 years.

Jim was a member of the Walter T. Enneberg Post No. 358 of the American Legion of St. Ansgar. For many years he worked very hard as custodian and volunteer for the First Lutheran Church in St. Ansgar. He worked for years at White Farm Equipment in Charles City and was presently employed at Neil Mahr Trucking in Lime Springs.

Jim was united in marriage to Donella Kofoot on November 11, 1967. To this union two children were born, William and Katherine. In addition to his children, he had one grandchild.

Jim and Donella celebrated their 32nd wedding anniversary in 1999. While driving truck, many times he would let you know he was in the area by a signature tap on the horn. For his community, friends and family, Jim was a continual source of strength and love. He could always be counted on no matter what and could make you laugh with a simple wink of an eye. He will truly be missed.

Jim was preceded in death by his father, William Kline; stepfather, Wilmer "Buddy" Heimer; father and mother-in-law, Ernest and Martha Kofoot; and one niece, Bethany Kofoot.

He is survived by his wife, Donella, of St. Ansgar; his son, William, of Burnsville, Minnesota and his fiancée, Jennifer Hohnke, of Big Lake, Minn.; his daughter, Katherine Jean Branstad and her husband, Jeff, of St. Ansgar; granddaughter, Morgan Branstad; his mother, Agnes Heimer; two brothers, Jack Kline and his wife, Carol, of Lyle, Minn. and Jerry Kline and his wife, Sue, of St. Ansgar; five sisters: Diane Zuehl and her husband, Roger, of Racine, Wis., Nancy Salisbury and her husband, Don, of Rudd, Janet Bruesewitz and her husband, Robert, of Rochester, Minnesota., Sonja Yahnke and her husband, Thomas, of Allen, Texas, and Linda Currans, of St. Ansgar; many brother and sisters-in-law; as well as 38 nieces, nephews and many great-nieces and nephews.

Schroeder & Sites Funeral Home, (641) 736-4920. ----------------------------------------------------------------------------------------------

According to the funeral folder, the funeral was held on June 4, 2000; casket bearers were: Brandon Kofoot, Erik Kline, Jason Kofoot, Monte Bruesewitz, Gene Liekweg, Gene Kline, Mark Zuehl, Brian Solberg and Doug Salsbury.

Honorary bearers were: Roger Gerlach, Keith Horgen, Neil Mahr, Roger Wilder, Roger Eberling, Jim Squier, Marly Kittleson, Ed Collier and Steve Libersky.
Mary Linder, age 89 of St. Peter, passed away on Sunday, May 8, 2022 at Benedictine Living.

A time of visitation will be at 12 noon on Friday, May 13th at River of Life Lutheran Church, St. Peter with fellowship and food at 1:00pm followed by a service at 2:00pm. The service will be livestreamed on her obituary at www.saintpeterfuneralhome.com.

Mary was born December 4, 1932 in Ponsford MN to James and Edith (Maxwell) Scheppard. She attended schools in Ponsford, and eventually received her GED in 1980. An accomplishment she was very proud of. She married Kenneth Langner and then later married Walter Linder. Mary started working as a nurse's aide in 1976 and retired after 21 years in 1997. She did also work other jobs during, before and after. She lived in various places in Minnesota, eventually moving to St. Peter in 2018. Mary enjoyed collecting stuffed toy pigs and pig related knick-knacks, knitting, crocheting, quilting and doing word finds.

Left to remember Mary are her children: Fran (Duane) Hoffmann, James (Mary) Langner, Kenny (Eileen) Langner, Linda (Eugene) Grack, Walt (Becky) Linder and Hazel Martin; 26 grandchildren; 22 great grandchildren; 7 great-great grandchildren; and many other relatives and friends. She was preceded in death by her husbands, several siblings, son-in-law Michael Martin, great-grandson Devin Linder.
David Leroy Linder, age 86, of Centuria passed away Sunday, February 11, 2018 at Amery Memory Care. He was born the oldest of 12 children to David and Hulda (Dodd) Linder on February 14, 1931 in Grantsburg, WI. David attended school in Grantsburg and at early age went on to work on the family farm. On October 13, 1951, he married Barbara Gibson, shortly after he went to serve his country in the Korean War as a U.S. Marine. Following the military, he attended school to become an Auto Body Mechanic and worked in that field for approximately 20 years. He also farmed his own property and worked at the Flea Market in St. Croix Falls for over 20 years. He was known as an outdoorsman and loved gardening, fly fishing and collecting tractors. He is survived by his children, Daniel Linder, Kathy (Gus) Hochstetler, Jacqueline Otto, Timothy (Edna) Linder, and Jeffrey (Shirley) Linder; 20 grandchildren; many great-grandchildren; special friend, Phyllis Linnell; siblings, Ronald Linder, Roger (Karen) Linder, Carole Shern, Raymond (Caroline) Linder, Dennis (Mary) Linder, Doug (Sue) Linder, Judi (Bill) Edmonson, and Bryan (Joanell) Chinander. David was preceded in death by his parents; wife, Barbara; siblings, Jerry and Michael; sister-in-law, Joanne; and brother-in-law, Ray. A private graveside service with military honors was held on Friday, February 16, 2018 at 12 noon at West Immanuel Lutheran Church Cemetery. A celebration of life service was held at 1:00 pm on Friday, February 16, 2018 at Servant Hall by West Immanuel Lutheran Church followed by a light meal and visitation continuing until 3:00 pm. Arrangements are pending with Bakken-Young Funeral & Cremation Services Beebe Chapel of New Richmond.
Lee E. Stalberger

brother to Mary Stalberger Linder (Wife of Dennis Mark Linder)
Norbert Joseph Stalberger (Father)

Marie Elizabeth Bayer Stalberger (Mother)

DE PERE, WI. – Leon E. Stalberger also known to many as "Lee Steele", age 77, passed away peacefully on Wednesday, May 17, 2017 after a short battle with Metastatic Lung Cancer.

On May 27, 1939 Lee was born in Elrosa, Minnesota to the late Norbert and Marie (Bayer) Stalberger. Lee served in the Army Reserve, MI National Guard. On October 26, 1968 he married Sandra Harju at St. Michael's Catholic Church, Marquette, MI.

He was a graduate of Brown Institute with a degree in Broadcasting. Lee spent many years as a sports broadcaster with radio and TV. Those years were spent with WDMJ Radio – Marquette, MI, WFRV-TV and WLUK-TV and WDUZ Radio all of Green Bay, retiring in 1993. He had a passion for baseball, golf and most sporting events. Lee was an avid reader of novels and historical non-fiction. Most of all he enjoyed spending time with family and friends.

Lee is survived by his loving wife, Sandra; son, Mickey Mantle (Kathy) Stalberger, Green Bay; a granddaughter due on July 10, 2017; his sister Mary Jo (Dennis) Linder, Belgrade, MN; sister-in- law, Suzie Skoog, Swartz Creek, MI; many other relatives and friends.

He is preceded in death by his parents and brothers, Gene, Jim and Donald.

Family and friends may visit at St. Mary Catholic Church, 4805 Sportsman Dr., Ledge- view, on Tuesday, May 23, 2017 from 12 noon to 1:45pm. Mass of Christian burial will be celebrated for Lee at 2:00pm at the church with Rev. Richard Getchel officiating.

Interment at Mt. Olivet Cemetery. Cotter Funeral Home and Crematory is assisting the family with arrangements. Online condolences may be sent to www.cotter funeralhome.com.

Thank you to many friends and relatives who offered their prayers and assistance while Lee was ill. For their diligent tender care, special thanks to Dr. McCarty, Dr. Bowersox, Dr. Hoppe, the nursing staff at St. Vincent Hospital and Unity and Heartland Hospices. Also thank you to Green Bay Oncology.