Mabel Bennett Newlin
Cece's Aunt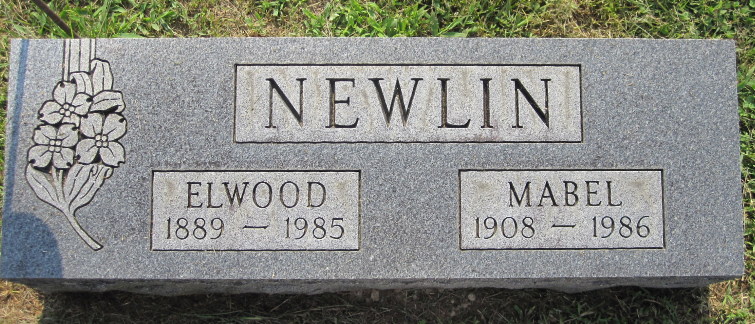 (WikiTree)
(Sysoon)
(Legacy)
(Census 1920)
(Census 1930)
(Census 1940)
(Family Search)
(Ancestry)
(Find a Grave)
12 in 1920 census
21 in 1930 census
Implies birth in 1908 or 1909
Elwood Newlin information

====================================================================================================================================================================================================================================================================================================================
CENSUS YEAR: 1920    STATE: Indiana    COUNTY: Orange    TOWNSHIP: Paoli (East Part)    MICROFILM#: T625-459    SUPV/DISTR: 3    ENUM/DISTR: 148    ENUMERATOR: Clifford E. Fleming    ENUM/DATE-RANGE: January 2 thru 21, 1920    CENSUS-DAY: January 1, 1920
====================================================================================================================================================================================================================================================================================================================
                                                                                                                  S-M  YEAR       YEAR ATT  CAN  CAN                        FATHER    FATHER    MOTHER    MOTHER    SPEAK                            EMPL FARM
PG#  LN# ED# SH# STREET          HS#  DW# FM# LAST NAME   FIRST NAME      RELATION       O-R M-F SEX RACE AGE     W-D  IMMI ALIEN NAT  SCH  READ WRITE BIRTHPLACE TONGUE    BIRTHPL   TONGUE    BIRTHPL   TONGUE    ENG?  TRADE        BUSINESS      SAL  SCH  REMARKS
                 (1)             (2)  (3) (4) (5)         (5)             (6)            (7) (8) (9) (10) (11)    (12) (13) (14)  (15) (16) (17) (18)  (19)       (20)      (21)      (22)      (23)      (24)      (25)  (26)         (27)          (28) (29)
====================================================================================================================================================================================================================================================================================================================
159A 8   148 1A  Old State Rd    Farm 3   3   Newlin      Nathaniel       Head           O   M   M   W    62      W    .    .     .    .    Yes  Yes   IN         .         IN        .         IN        .         Yes   Farmer       General Farm  .    3    .
159A 9   148 1A  Old State Rd    .    3   3   Newlin      Elwood          Son            .   .   M   W    27      S    .    .     .    .    Yes  Yes   IN         .         IN        .         IN        .         Yes   None         .             OA   .    .
159A 10  148 1A  Old State Rd    .    3   3   Newlin      Stella          Daughter       .   .   F   W    26      S    .    .     .    .    Yes  Yes   IN         .         IN        .         IN        .         Yes   None         .             OA   .    .
159A 11  148 1A  Old State Rd    .    3   3   Newlin      Alvis           Son            .   .   M   W    23      M    .    .     .    .    Yes  Yes   IN         .         IN        .         IN        .         Yes   None         .             OA   .    .
159A 12  148 1A  Old State Rd    .    3   3   Newlin      Earl            Son            .   .   M   W    18      S    .    .     .    No   Yes  Yes   IN         .         IN        .         IN        .         Yes   None         .             OA   .    .
159A 13  148 1A  Old State Rd    .    3   3   Newlin      Wayne           Son            .   .   M   W    16      S    .    .     .    No   Yes  Yes   IN         .         IN        .         IN        .         Yes   None         .             .    .    .
159A 14  148 1A  Old State Rd    .    3   3   Newlin      Robert          Son            .   .   M   W    10      S    .    .     .    No   Yes  Yes   IN         .         IN        .         IN        .         Yes   None         .             .    .    .
159A 15  148 1A  Old State Rd    .    3   3   Newlin      Kenneth         Son            .   .   M   W    7       S    .    .     .    No   Yes  Yes   IN         .         IN        .         IN        .         Yes   None         .             .    .    .
159A 16  148 1A  Old State Rd    .    3   3   Newlin      Pauline         Daughter       .   .   F   W    5       S    .    .     .    No   .    .     IN         .         IN        .         IN        .         Yes   None         .             .    .    .
159A 17  148 1A  Old State Rd    .    3   3   Newlin      Irene           Wife           .   .   F   W    17      M    .    .     .    No   Yes  Yes   IN         .         IN        .         IN        .         Yes   None         .             .    .    nee Eickelberger (m. 1919)

Orange County Indiana Marriage Index, Jan. 1920-June 1933 (M Through Z)

| | | | | | | |
| --- | --- | --- | --- | --- | --- | --- |
| BRIDE OR GROOM | SPOUSE NAME | BIRTH DATE | COLOR | MARRIAGE DATE | BOOK | PAGE |
| Newlin, Elwood | Bennett, Mabel | 29-Jul-1889 | W | 23-Jan-1932 | 26 | 238 |
| Bennett, Mabel E. | Newlin, Elwood | 28-Mar-1908 | W | 23-Jan-1932 | 26 | 238 |
Most likely candidates (SSDI)

| | | | | | | | |
| --- | --- | --- | --- | --- | --- | --- | --- |
| MABEL NEWLIN | 28 Mar 1908 | May 1986 | 78 | Mitchell, Lawrence, IN 47446 | (not specified) | Indiana | 312-20-7103 |
| ELWOOD NEWLIN | 29 Jul 1889 | Mar 1985 | 95 | Mitchell, Lawrence, IN 47446 | (not specified) | Indiana | 311-03-2910 |
| WAYNE NEWLIN (Brother) | 29 Dec 1903 | 8 Feb 2003 V | 99 | Paoli, Orange, IN 47454 | (not specified) | Indiana | 316-07-5113 |
Marriage Record Index 1826-1933 Orange County, Indiana

| Last Name | First Name | Sex | Race | Age | Spouse | Marriage MO/DA/YR | Father | Mother | Birth MO/DA/YR | Book | Page | Comments |
| --- | --- | --- | --- | --- | --- | --- | --- | --- | --- | --- | --- | --- |
| BENNETT | MABEL E | F | W | 24 | ELWOOD NEWLIN | 1/23/1932 | | | 3/28/1908 | C-26 | 238 | |
| NEWLIN | ELWOOD | M | W | 43 | MABEL BENNETT | 1/23/1932 | | | 7/29/1889 | C-26 | 238 | |
| NEWLIN | ALVIS (brother) | M | W | 24 | IVA I EICHELBERGER | 12/20/1919 | NATHANIEL | EMMA NEWLIN | 1/29/1896 | H-6/C-19 | 37/224 | |
| EICKELBERGER | IVA (sister-in-law) | F | W | 19 | ALVIS NEWLIN | 12/20/1919 | SAMUEL | MARTHA MOORE | 9/26/1901 | H-6/C-19 | 37/224 | |
| NEWLIN | EARL E (brother) | M | W | 23 | MAGGIE TURNER | 1/5/1922 | | | 11/9/1899 | C-20 | 242 | |
| TURNER | MAGGIE (sister-in-law) M | F | W | 23 | EARL E NEWLIN | 1/5/922 | | | 8/25/1899 | C-20 | 242 | |
SSDI

| | | | | | | | |
| --- | --- | --- | --- | --- | --- | --- | --- |
| Name | Birth | Death | Age | Last Residence | Last Benefit | Issued By | SSN |
| MABEL NEWLIN | 5 Mar 1915 | Dec 1982 | 67 | Indianapolis, Marion, IN 46217 | Indianapolis, Marion , IN 46217 | Indiana | 310-16-3139 |
| MABEL NEWLIN | 18 Sep 1909 | 24 Apr 1994 | 84 | Orleans, Orange, IN 47452 | (not specified) | Indiana | 313-28-3604 |
| MABEL NEWLIN | 28 Oct 1901 | Nov 1966 | 65 | Paoli, Orange, IN 47454 | (not specified) | Indiana | 314-05-2326 |
http://www.ingenweb.org/inorange/stampers_creek_cemetery/stampers_creek_cemetery_m_z.htm
Stampers Creek Baptist Church Cemetery

| | | | | | | |
| --- | --- | --- | --- | --- | --- | --- |
| Name | Photo | Born | Died | Additional Information on Stone | Notes | Notes related to orig transcription |
| Newlin, Elwood | | 1889 | 1985 | | One stone with Mabel | |
| Newlin, Mabel | | 1908 | 1986 | | One stone with Elwood | |
Virginia Rose Newlin Lane
Is this the "Jennie R." referred to in 1930 Census? Yes.
She goes by Rose now. I spoke to her via telephone on March 8, 2012.
http://www.ingenweb.org/inorange/wpa2040/wpa2040_b.htm
| | | | | | | | |
| --- | --- | --- | --- | --- | --- | --- | --- |
| CHILD | FATHER | MOTHER | SEX | RACE | BIRTH DATE | BK | PG |
| Bennett | Lawrence | Mabel Bennett | F | W | Apr 8,1929 | H-9 | 30 |
http://www.bedfordonline.com/archives/obit/obit0608.htm
Lane - Ernest W. Lane of Mitchell, IN, died Wednesday, August 9, 2006, at the Mitchell Manor Living and Rehabilitation Center. Born on July 28, 1918, in English, IN, he was the son of Jacob and Blanche (Hammond) Lane. He married Virginia Rose Newlin in July 28, 1946, and she survives.
Also surviving are one daughter, Martha Best and husband, Harvey, of Madison, IN; one son, David Lane and wife, Sue, of Gallatin, TN; three brothers: Melvin and Jack Lane of Birdseye, IN, and Andrew Lane of Logansport, IN; one sister, Lula Belle Bean of English, IN; five grandchildren and eight great-grandchildren. He was preceded in death by his parents, and three brothers: Elmer, Paul and Earl Lane.
He was a veteran of the United States Army serving in World War II. He was employed for more than fifty years at Crawford-Morris Lumber Company, retiring in 1998. He was a charter member of the Mitchell Wesleyan Church.
Services will be at 11:00 a.m. on Saturday, August 12, 2006, at the Mitchell Wesleyan Church with Reverend Stephen Jones officiating. Burial will follow in the Cresthaven Memory Gardens. Military rites will be accorded by the Cecil C. Martin American Legion Post No. 250 and the Marvin R. Davis Veterans of Foreign Wars Post No. 9107. Friends may call from 4:00 p.m. until 8:00 p.m. on Friday, August 11, 2006, at the Chastain Funeral Home in Mitchell, IN, and from 9:30 a.m. until the time of service on Saturday, August 12, 2006, at the Mitchell Wesleyan Church.
Martha "Marti" Lane Banks
Parent of Rob Helton
Parent of Mike Helton
Parent of Melody Martin
Spouse of Michael J. Murphy 1988-2000, Mike died in February 4, 2012 -

[Edited] RIP Michael J. Murphy. When I was married to Mike (1988-2000), my grandson Jesse was with us much from the time he was 6 months to Beginning of his school days. They became good buddies and remained that way, visting and talking on the phone (even just a few days ago). Actually Mike really spoiled him. Jesse loved him as a true blood grandpa. Melody, my daughter says Jesse (now 20) is taking Mike's death hard. Please pray for Mike's children (3) and grandchildren (3) that he leaves behind as well as Jesse and my children as they have good memories. There will be no funeral, but a memorial service next week.
Harvey E. Best
Harvey E. Best 79, Madison, died Sept. 8, 2010. Services: 11 a.m. Wed. Sept. 15 at First Baptist Church, Madison, with calling there from 10 a.m. until the service and from 5-8 p.m. Tue. Sept. 14 at Morgan & Nay Funeral Centre. Interment: Grandview Memorial Gardens, Madison.
Published in the The Indianapolis Star on September 11, 2010
SSDI
HARVEY E. BEST
Oct 25, 1930
Sep 08, 2010
Last residence: 47250 (Madison, Jefferson, IN)
Rob Helton
Born, July 1972
Married to Amy
Mike Helton
Born about 1969-1970

Daughter Rachael, born about 1993

Granddaughter, Lexi LeAnn

August 17, 2011 at 5:28am
Lexi LeAnn was born 3:12 p.m. yesterday weighing 7 lbs and 20" long. She and mommy Rachael are doing well. Daddy Chase is not quite knowing what to do with her. Grandpa Mike (my son) is in Florida. Rachael was sad he wasn't there (he has had her by himself since she was 6 - she's 18). Rachael has not had much experience with babies so she's a bit frightened by it all. I think holding that precious thing that it will sink in and she'll just be fine. You know what granda wants to do.
Melody Helton Martin
Born about 1973?

Married to Rory Martin
Hauser Junior - Senior High School Class of 1989

Class of 1991, Bedford North Lawrence High School

Daughter, Tasha Owens - Tasha's Facebook

Son, Jesse born about 1992
.u https://www.tmnews.com/obituaries/psbn0124898:Virgina Rose Newlin Lane
Virginia Rose Lane, 92, passed away Saturday, January 1, 2022, at Hanover Nursing Center.

Born April 8, 1929, in Paoli, she was the daughter of Elwood and Mabel (Bennett) Newlin. She married Ernest William Lane July 28, 1946, and he preceded her in death August 9, 2006.

Rose was a 67 year member of the Mitchell Wesleyan Church and had been custodian for many years. She had served as past director of the Wesleyan Women. Rose enjoyed reading and was a 1946 graduate of Paoli High School.

Survivors include her children, David Keith (Susan) Lane of Gallatin, Tennessee and Martha Rose (Barry) Banks of Madison; grandchildren, Rebecca Lane, Sarah McDaniel, Michael Helton, Robert (Amy) Helton, Melody (Rory) Martin, and Angela Banks; great-grandchildren, Rachel, Derek, Jesse, Natasha, Clarissa, Donavon, Katie, and John; and 12 great-great-grandchildren.

Her parents and husband preceded her in death.

Funeral service will be at 1:00 p.m. Wednesday, January 5, at the Mitchell Wesleyan Church with Reverend Steve Jones officiating. Burial will be Cresthaven Memory Gardens.

The family will receive friends from 11:00 a.m. until the service on Wednesday at the church.