Simon "Sam" Dado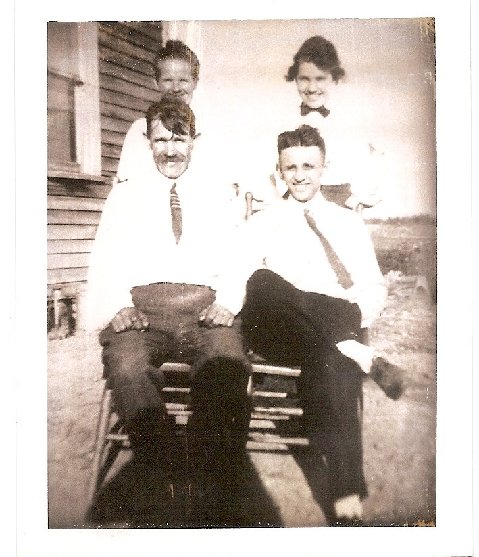 Sam and Pearl Dado (left) with Martin and Anna Dado (right)

1865-1928

From HISTORY OF HOLY TRINITY ORTHODOX CHURCH

"Sam Dado came from Europe and was a hard coal miner in Sheppton, Pennsylvania. Finding mining to be a hazardous occupation he left and came to Minneapolis in 1907 and to the Clayton area in 1914."

His burial is in Holy Trinity Russian Orthodox Cemetery

Simon Dido

in 1900 Census document. Names oddly correspond to the correct siblings, but Mary is listed as Wife and birth dates don't match other records.
His Family
Martin Dado
1891-1987


Known as Jim
Spouse: Anna Soltysiak 1896-1999
Daughter: Gloria Anna 1926-2004

Spouse: David Otto Johnson
Anna Dado
1893-1985 Find A Grave
Spouse: Michael Dzubay 1887-1970
Daughter: Helen Dzubay 1912-1999
Daughter: Elsie Dzubay 31 October 1916 - 1986

Spouse: William Harold Smith 1907-1965

Son: John Dzubay 1919-1997

Spouse: Olga Franko 1916-2003
Son: Dwayne D Dzubay 1941-1983
Daughter: Janel Elaine Dzubay 1945-
Daughter: Sharon Kay Dzubay 1948-
Daughter: Donna Mae Dzubay 1953-
Daughter: Karen Lynn Dzubay (GiGi) 1955-

Son: George Dzubay 1921-1964
Daughter: Elaine Anne Dzubay 1926-

Spouse: Chester S Janas 1919-1993
Daughter: Sandra L Janas 1946-
Son: Gary Michael Janas 1950-
Daughter: Renee Leanne Janas 11 February 1953-
Son: Robert S Janas 1957-

Spouse: Lorita Ellen Smith 1958-
Son: Michael R Janas 1987-
Daughter: Angela Marie Janas 1989-
Mary Dado
1897-1994

Spouse: John Cotch 1891-1975
Son: John Cotch 1916-2008

Spouse: Agnes A Wenzel 1918-2006
Daughter: Marlys A Cotch 1941-

Spouse: Paul W Chadwell 1938-

Son: Roger Cotch 1945-1967

Daughter: Irene Cotch 1918-2018

Spouse: Henry H Kaehler 1914-1974
Daughter: Cheryl Kaehler (deceased)
Daughter: Saundra Kaehler 1938-2013

Spouse: Steven Mindlin
Daughter: Robin Mindlin

Spouse?: ? Mooney
Daughter: Michelle Mooney
Son: Michael Mooney
Spouse: Steven Wanamaker

Son: Henry J Kaehler 1940-

Son: Michael Cotch 1921-1984

Spouse: Marie Emily Bjerre 1924-2000
Son: Charles M Cotch 1943-

Spouse: Barbara Ann Marshall 1944-
Son: Bruce Charles Cotch 1966-
Daughter: Nancy Ann Cotch 1971-

Son: Alan Gene Cotch 1946-

Spouse: Julie Ann Vitalis 1947-
Daughter: Alanna Kay Cotch 1970-
Daughter: Naomi Louise Cotch 1972-
Son: Warren Alan Cotch 1973-

Spouse: Danya Marie Bender 1980-

Daughter: Ruth Ann Cotch 1975-

Spouse: James Joseph Cooke 1968-

Daughter: Elizabeth Erin Cotch 1978-

Daughter: Dorothy M Cotch 1952-

Daughter: Elaine Ann Cotch 1923-2009

Spouse: Floyd A Bjurstrom 8 October 1921 - 11 August 2010
Son: David Bjurstrom

Spouse: Margaret
Daughter: Leslie Bjurstrom

Spouse: Kyle Thomas
Son: Cole Thomas
Son: Garrett Thomas

Daughter: Kelly Bjurstrom
Son: Ryan Bjurstrom

Daughter: Carol Ann Bjurstrom 1941-

Daughter: Marilyn Cotch 1927-1928
Son: Walter Cotch 1925-1998
Son: Alvin Cotch 1929-1970

Spouse: Lola D Sass 1934-
Son: Jeff Cotch
Daughter: Debra L Cotch 1951-

Spouse: Jay R Matson 1949-
Son: Daniel J Matson 1971-
Son: Brent A Matson 1975-

Son: Lawrence "Larry" Cotch
Son: Robert Cotch 1937-1976

Spouse: Anne Thill
Son: Dale Robin Cotch August 9, 1958 - January 29, 2017
Daughter: Jill Leann Cotch 1961-

Spouse: Larry Elliott Carlson 1966-

Daughter: Heidi Lynn Cotch 1966-

Spouse: Gregory D Schrock 1964-
Joseph Dado
1899-1984
Twin brother Sam died at birth
Spouse: Clara Thorissa Anderson 1904-2000
Son: Spencer Jay Dado 1929-1931
Died from leukemia
Daughter: Muriel Laverne Dado 1932-

Spouse: Rudolph Walfred Linder 1928-
Son: Roger Dale Linder 1953-

Spouse: Cecelia Ann Bennett 1956-
Son: Matthew Steven Linder 1980-

Spouse: Catherine M Bailey 1983-
Changed name to Katherine at marriage
Divorced 2013
Daughter: Diana Grace Linder 2010-
Spouse: Sara Larossa
Son: Kendrick Isaac Linder 11 October 2017
Daughter: Lauryn Imani Linder 11 October 2017

Son: Bradley Joel Linder

Son: Michael Scott Linder
Changed name to Michael Scully-Linder when marrying Peggy Scully

Spouse: Brenda June Clark 1959- (Divorced)
Daughter: Megan Christine Linder 1981-

Spouse: Brett Alan Denison 1970-
Daughter: Caitlin Johanna Ash Denison 2004-
Son: Jack Alan Michael Denison 2009-

Daughter: Kathryn Elizabeth Linder 1983- (Katie)
Daughter: Sarah Claire Linder

Spouse: Justin Vallelonga (Divorced)

Spouse: Ranea Gibbons (Divorced)
Spouse: Margaret Scully 1958- (Peggy)

Daughter: Tracy Karen Linder

Spouse: Jeffrey E Bowen 1960-
Son: Jarred Daniel Bowen 1983-

Spouse: Sarah Beth Brooks

Son: Travis Joseph Bowen 1988-
Daughter: Krista Elise Bowen 1991-

Spouse: Eric Davis 1990-
Son: Hunter Davis
Andrew Dado
1901-1993

Spouse: Susie Haffich
Daughter: Irene Avril Dado 27 February 1928 - 2 December 2019

Spouse: Melvin C Paulson 24 June 1926 - 5 September 1997
Son: Randy Allen Paulson
Son: John Norman Paulson

Spouse: Susan Patricia Barnes
Daughter: Sarah Jane Paulson
Daughter: Lisa Beth Paulson
Daughter: Anna Marie Paulson
Daughter: Jessica Rose Paulson

Son: Loren Dale Paulson
Son: Russell Dean Paulson
Daughter: Marilyn Sue Paulson

Spouse: Joel D Weber 1953 - 1976
Daughter: April Dawn Weber
Spouse: Gary Crosby
Son: Andrew Joseph Crosby
Spouse: Peter John Friedrich 1956 - 2014

Son: Steven Brent Paulson

Spouse: Diane Lea Logan
Son: Jeffrey Alan Paulson
Son: Aaron Andrew Paulson
Son: Mitchell Patrick Paulson
Son: Cory Paulson

Daughter: Linda Rose Paulson
Son: Howard Wayne Paulson
Son: Peter Andrew Paulson

Daughter: Genevieve Adele Dado 1930 - 6 January 2003

Spouse: Leo Burton Bruder
Daughter: Sharon Bruder
Daughter: Laura Susan Bruder
Daughter: Kimberly Anne Bruder

Spouse: Michael Allen Kirk
Daughter: Angela Rae Kirk

Spouse: Jeremy Joseph Snitker
Son: Trevor James Snitker
Daughter: Tristin Mckayla Snitker
Spouse: Gene

Son: Chad Michael Kirk

Spouse: Maria Lynn Cavalier
Daughter: Alexis Malynn Kirk
Spouse: Pamela Christine Gibson
Son: Ethan John Kirk
Spouse: Laura Anne Ivey

Son: Adam Richard Kirk

Spouse: Tabitha Lawrimore
Son: Andrew Michael Kirk
Daughter: Teauna Marie Kirk
Spouse: Lisa Marie Ouellette

Son: Joshua David Kirk

Son: Austin M Anderson
Son: Kenneth Charles Kirk (Mother: Cheyanne Hiemstra)
Son: Austin Bailey Kirk (Mother: Valerie Wood)
Daughter: Audrina Anderson

Son: David Leo Bruder

Spouse: Corriene Marie Larson Married 19 April 1977
Daughter: Dena Bruder

Spouse: John Stuart Evans

Daughter: Anna Bruder
Spouse: Diane Elizabeth Wright
Son: Timothy Chad Olson
Daughter: Janessa Elizabeth Olson

Daughter: Vicki Lynne Bruder
Son: Daniel Lynn Bruder
Son: Jeffry Allen Bruder

Daughter: Laurice Ann Dado

Spouse: Gerald S Raffesberger
Daughter: Jeanne Raffesberger

Spouse: Pichler
Son: George A Pichler
Son: FrankAnton Pichler
Spouse: ?
Daughter: Rachel Sierra Raffesberger

Son: Donald Raffesberger
Son: Richard Raffesberger
Spouse: Chester Wesley Lou Lambert

Chester Wesley Lou Lambert of Osceola died at Christian Community Home on March 21, 2012. after a brief bout with cancer. He was 75.

Wes was born Sept. 20, 1936, in Princeton, Minn., to Chester and Ann Lambert. In 1956, he joined the Pittsburgh Fleet of the Merchant Marine and sailed the Great Lakes on ore boats, then went on to work for many years as an iron worker/welder with Pioneer/Portec. He was married in Shell Lake on July 1, 1970 to Laurice Raffesberger (nee Dado) and was blessed with one daughter, Sharon, and also acquired three stepchildren: Jeanne, Donald and Richard Raffesberger. Wes was an avid hunter, loved metal detecting and enjoyed being in the outdoors.

He was preceded in death by his father, Chet, his mother, Ann, brothers Lester and Duane and sister, Faye.

He is survived by his wife, Laurice of Osceola; daughter, Sharon of Fridley, Minn.; sister Janet Freudenberg of Princeton, sister-in-law Betty Lambert of Princeton; stepdaughter Jeanne Raffesberger of Fridley, stepson Donald Raffesberger of Carlsbad, Calif., and stepson Richard Raffesberger (Deb Rose) of Osceola; and seven step-grandchildren: Nichole McVeigh, Jaime Meyer, Susan Moon, George Pichler, Frank Pichler, Rachel Raffesberger and Emily Raffesberger and seven step-great-grandchildren.

There will be no services. Private family interment will be in Mount Hope Cemetery in Osceola.

Daughter: Sharon Lambert

Son: Andrew W Dado, Jr.

Spouse: Joan Lucille Armstrong 23 May 1939 - 19 December 2015 Obituary

Joan L. Dado

Born: May 23, 1939

Died: Dec. 19, 2015

Joan L. Dado, of Lake City passed away Saturday, December 19, 2015, at her home. She was 76.

Joan was born May 23, 1939, in Dunn County, Wisconsin to Durward and Ethel (Phelps) Armstrong , who preceded her in death.

Joan was a wonderful wife, mother, and grandmother who had a passion for gardening, decorating, housekeeping, and listening to music, but most of all she loved spending time with her family. Joan also had a special place in her heart for animals. Above all, Joan was a dedicated Christian who loved God and supported her husband in his ministry for over 50 years. She was currently a member of the Lake City Free Methodist Church. Joan was a sweet, caring person, greatly loved by all who knew her.

On May 17, 1958, she married Andrew W. Dado and he survives her along with their children, Margo (Bruce) McIntyre, Connie (Roger) Francoeur, Marcia Dado and Corinne (Rick) Toth;

grandchildren, Stephanie (Andrew) Braun (children, Xander, Sebastian, Aksel, Zackary); Jonathan (Lisa) McIntyre (children, Felix); Michael McIntyre; Thomas Francoeur, Christopher (Shannon) Francoeur (children, David, Haley, Alex, Emily); Nicole (Travis) Thornton; Anna (Will) Pollington (children, Caden); Ashley Moore (fianc Jason) (children: Eleanor, Preston, Holden); Andrew Moore (fianc Chelsea); Samantha, Glenn, Barbara and Russell Toth; siblings, Nellie Trandum, Lucy Johnson, Ruth Thompson, Jimmy (Cathy) Armstrong, Shirley Armstrong, Paul Armstrong; sisters-in-law, Irene Paulson, Laurice Lambert; and many nieces and nephews.

In addition to her parents she was preceded in death by a brother, Kenneth Armstrong; a sister, Lurene Smith; and parents-in-law, Andrew and Susie Dado.

Funeral services will be held 2:00 p.m. Wednesday, December 23, 2015, at Peterson Funeral Home in Cadillac with Pastor Michael Dunn officiating. Friends may meet the family Tuesday, from 5:00 to 8:00 p.m. at the funeral home. Burial will take place at Old Jennings Cemetery in Missaukee County.

Daughter: Margo Ellen Dado

Spouse: Bruce McIntyre
Daughter: Stephanie McIntyre

Spouse: Andrew Braun
Son: Xander Braun
Son: Sebastian Braun
Son: Aksel Braun
Son: Zackary Braun

Son: Jonathan McIntyre

Spouse: Lisa
Son: Felix McIntyre

Son: Michael McIntyre

Daughter: Connie Joan Dado

Spouse: Craig Robert DeJonge
Spouse: Roger Francoeur
Step-Son: Christopher Francoeur Son of Darla Wadley

Spouse: Shannon
Son: David Francoeur
Daughter: Haley Francoeur
Son: Alex Francoeur
Daughter Emily Francoeur

Step-Daughter: Nicole Francoeur daughter of Darla Wadley
Son: Thomas Roger Francoeur

Daughter: Marcia Marie Dado
Daughter: Corinne Sue Dado

Spouse: Rick Toth
Daughter: Samantha Toth
Son: Glenn Toth
Daughter: Barbara Toth
Son: Russell Toth
John Dado
Born: 27 February 1904
Died: 9 April 1975
Spouse: Mary Magdeline Ritsche 1907-2004
Daughter: Delores Marie Dado 1927 -
Daughter: Lorraine Alice Dado 1929 -

Spouse: Adolph Harold Scheps 1931 -
Daughter: Kathleen Ann Scheps 1953 -
Daughter: Debra Marie Scheps 1955 -

Spouse: James C Selvig 1953 -
Daughter: Jennifer Lyn Selvig 1979 -

Spouse: Joshua Michael Bruns 1977 -

Daughter: Brooke Ellen Selvig 1981 -

Spouse: Jonathan Halverson
Daughter: Hailee Marie Halverson 2005 -
Son: Bronson James Halverson 2007 -

Son: David Allen Scheps 1956 -
Son: Kenneth Lynn Scheps 1958 -

Spouse: Deborah Ann Csuti
Daughter: Kathryn Lorraine Scheps 1989 - 2006
Son: Nolan James Scheps 1991 -
Derek Scheps

Daughter: Laurie Diane Scheps 1960 -
Son: Dale Adolph Scheps 1962 -

Spouse: Sandra Lea Freitag
Son: Brian Michael Scheps 1983 -
Amber Lea Scheps 1985 -

Daughter: Linda Kay Scheps 1964 -
Son: Daniel John Scheps 1971 -

Spouse: Valerie Joan Miller 1969 -
Son: Jonathon Daniel Scheps 2001 -
Daughter: Greta Loralee Scheps 2003 -
Son: Drew Dean Scheps 2007 -

Daughter: Jeanette Ann Dado 1932 -

Spouse: Marvin Edward Dietrich 1931 -
Son: Mark Edward Dietrich 1956 -

Spouse: Colleen Rae Baker 1957 -
Son: Christopher O'Rien Dietrich 1978 -

Son: Marvin John Dietrich 1958 -
Son: Michael Steven Dietrich 1962 -
Son: Mitchell David Dietrich 1965 -
Son: Jason Lynn Dietrich 1967 -

Spouse: Amber Irene Jessup
Daughter: Madison Jessup Dietrich

Daughter: Shirley Mae Dado 1936 -
Daughter: Marlene Margaret Dado 1939 -

Spouse: Barry Davis 1939 -
Peter Dado
14 September 1906 - 24 November 1964

Spouse: Alma B Stafsholt
Step-Daughter: Elaine Louise Heibel 1932 - 1996

Spouse: Stanley Leo Moritko 1931 - 2016
Daughter: Lynn Marie Moritko 1951 -

Spouse: Douglas Stewart Sheppard 1949 -
Son: Sean Stewart Sheppard 1970 - 1970
Spouse: Terrence Curtis Wallace 4 December 1949 - 24 June 2015

Wallace, Terrence C. age 65, of Milaca, died Wednesday, June 24, 2015 at Fairview Northland Hospital in Princeton. He was born on December 4, 1949 in Minneapolis to Pat & Marcella (Tesmer) Wallace. He grew up in Minneapolis and moved up to Mille Lacs County in 1979. He was united in marriage to Kimberly Marie Gunerius on December 18, 1995 in Mille Lacs County. He was a wonderful father to his three girls and the most amazing "Papa". Survivors include his wife Kimberly of Milaca; daughters, Terah (Brandon) Wallace-Ketz of Blaine; Lena (Shea) Segelstrom of Washington State; Megan (Nathen Tower) Wallace of Fargo, ND; siblings, Patricia (Jerry) Anderson, Michelle (Jerry) Kunkel, Carol (Rome) Stonestrom, Timothy Wallace, Michael (Melody) Wallace, Brett Wallace, Laurie (Cory) Smith, Steve Anderson. He is also survived by his grandchildren; Paige, Brooklyn, Chloe, Belize, Korben, Zealand, Charlie, Sahara, Sterling, Leilyn, Maria, Lucy, and Sophie. Not to forget the many nieces and nephews that adored him. He was preceded in death by his parents. Memorial services will be 2 PM Saturday, July 11, 2015 at The Kingdom Hall of Jehovah Witness in Princeton. Visitation will be 1 hour prior to services at the Hall in Princeton. Arrangements have been entrusted to the Williams Dingmann Family Funeral Home in Princeton.

Daughter: Terah Angel Wallace 1977 -
Daughter: Lena Kathleen Wallace 1981 -
Daughter: Megan Wallace

Daughter: Kathline Ellen Moritko 1952 -

Spouse: Clarence A Johnson 1951 -

Daughter: Peggy Ann Moritko 1953 -

Spouse: Dennis James Ashlin 1951 -
Son: William James Ashlin 1977 -
Daughter: Cheri Diane Ashlin 1979 -

Son: David Stanley Moritko 1960 -
Son: Lawrence Edward Moritko 1964 -

Spouse: Jennifer Marie Engels 1965 -
Daughter: Rachel Erin Moritko 1994 -
Son: Eric James Moritko 1997 -

Step-Daughter: Eleanor Lois Heibel 1 January 1936 - 11 March 1987

Spouse: Robert G Waterfield 1936 - 1965

Spouse: Lucy
Suzanne Theresa Dado
11 May 1910 - 8 April 1996
Spouse: Peter Jacob Kubera 1917 - 2004 Obituary

Daughter: Carroll Anne Kubera 1941 - 1948
Daughter: Mary Lee Kubera 1945 -
Son: Kenneth John Kubera 1950 -
Michael Edward Dado
18 October 1912 - 23 February 2006

Spouse: Mae LaVonne Greene 1918 - 1999
Son: Gary Michael Dado 1938 -

Spouse: Arlene Holmstadt 1940 -
Daughter: Julia A Dado 1961 -

Spouse: Glen F Lyford 1960 -
Daughter: Karen Lyford 1984 -
Daughter: Laura Lyford 1984 -

Birth of Son Conor

Conor P. Mitchell, Pecatonica

John and Laura Mitchell of Pecatonica are parents of a son, Conor Patrick Mitchell, born on May 31, 2014, at FHN Memorial Hospital in Freeport.

Sister is Sadie Mitchell, 22 mo.

Grandparents are Glen and Julie Lyford of Davis, and Mark and Ann Mitchell of Hudson, Wis.

Son: Richard Gary Dado 1964 -
Son: Gregory P Dado 1965 -
Daughter: Gwyn Marie Dado 1973 -

Spouse: Jonathan Keith Otto 1974 -
Daughter: Meikaela Otto 1999 -
Son: Andrew Otto
Son: Samuel Otto

Daughter: Patricia Ann Dado 1940 -

Spouse: Allen Jerome Gale 1939 -
Son: Steven Lynn Gale 1961 - 1961
Son: Thomas Allen Gale 1962 -
Son: James Michael Gale 1964 -
Daughter: Sheila Marie Gale 1967 -

Son: Kenneth Charles Dado 1943 -

Spouse: Cheryl Ann Callahan
Son: Robert Joseph Dado 1965 -
Son: Patrick Michael Dado 1967 -

Son: Michael LeRoy Dado 1949 -

Spouse: Diane M Cernohous 1951 -
Son: Benjamin M Dado 1972 - 1992
Son: Brian E Dado 1975 -
Son: Eric J Dado 1976 -
Daughter: Sara Dado

Daughter: Kathleen Marie Dado 1961 -
Helen Margaret Dado
15 September 1915 - 2 December 2007
Dado Immigration
Family stories have indicated that the Dado family immigrated from near the Carpathian Mountains in the area then known as Austria-Hungary. Family members spoke Russian, and established themselves with the Russian Orthodox Church in America.
Dedjo/Dedyo family name
Some sources indicate that the family name may once have been spelled Dedjo or Dedyo. A Joseph Dedyo is mentioned as having been a brother to Simon, but no additional information is known about him, other than he may have settled in New Jersey.

Searching for the Dedjo name, I found these references:
Draft Registration card for George Dedjo, born November 8, 1878, in Torchonowicha, Poland and resided in Rillton, Sewickley Township, Westmoreland, Pennsylvania at the time of the registration, 1942. His wife was listed as Mrs. George Dedjo
Presumably the same man, George Dedjo, Sr's SSDI record indicates his birth as November 7, 1877


First Name: 	George
Last Name: 	Dedjo Sr
Birth Date: 	7 November 1877
Social Security Number: 	209-01-8683
Place of Issuance: 	Pennsylvania
Last Residence: 	Lowber, Westmoreland, Pennsylvania 15660
Death Date: 	January 1971
Estimated Age at Death: 	94


Antonin Dedjo arrived in 1902 from Austria


First Name: 	Antonin
Last Name: 	Dedjo
Ethnicity: 	Austria, Austrian
Last Place of Residence: 	Wiszatyce
Date of Arrival: 	Nov 20, 1902
Age at Arrival:  33y    Gender:  M    Marital Status:  M  
Ship of Travel: 	Friedrich der Grosse
Port of Departure: 	Bremen
Manifest Line Number: 	0013


Anna Dedjo is identified on a passenger list "New York City Immigrants (Austria, Galicia, Poland), 1892"
Catherina Dedjo is found in Family Search, born in 1825. Her parent are listed as Basilius Dedjo, born 1799, and Anna Krusko, born 1804. They were married in 1824.
Additionally, Ancestry.com lists records for Alfred Dedjo, D.C.; Ruby M Dedjo, D.C.; Harriet W Dedjo, D.C. and spouse Rufus L Dedjo;
Searching for the Dedyo name turned up these references
Joseph Dedyo (1894 - 1980) Yonkers, Westchester County, NY (New York), 10701 (Nephew)
Mary Dedyo (1895 - 1993) Yonkers, Westchester County, NY (New York), 10701 (Spouse of Nephew)
Family Search has a number of matches for Dedyo
Obituaries
Frances M. Cotch
Obituary
Frances Mae Cotch
February 22, 1927 - March 06, 2018

Frances Mae Cotch age 91, of Amery, Wisconsin passed away on Tuesday, March 6, 2018 at Comforts of Home Assisted Living in Hudson, Wisconsin.

Frances was born on February 22, 1927 to Carl and Maline (Western) Christopherson in Stanley, Wisconsin. Frances attended and graduated from Greenwood High School in 1945. She graduated with a teaching certificate from Eau Claire State Teachers College and a master's degree in 1972 from the University of Wisconsin-River Falls. She married Walter Cotch on June 2, 1950 at Our Saviors Lutheran Church, Menomonie, WI. They made their home in Clayton, WI and later moved to Amery, WI. She was a teacher at Clayton for many years. Walter preceded her in death on September 18, 1998. She married Jerome (Bud) Anderson in September 2004 and he preceded her in death in December of 2006. Frances was a proud Member of the Sons of Norway, Amery Red Hats, Homemakers and a member of Our Saviors Lutheran Church in Amery, as well as many other organizations. Frances was a volunteer at Amery Hospital and Schools. In addition, she served as the Vice President of the Synodical Women's Organization for the Northwest Synod of Wisconsin. In her free time, she enjoyed traveling to many different places, including South America and Europe. She enjoyed knitting prayer shawls, quilting, playing the organ, piano and psalmodikan. Most of all she loved spending time with her children and grandchildren, she especially loved playing a game of chicken foot with her family.

Frances is survived by 2 sons, Keith (Diane) of Minneapolis, Minnesota and Darrel (Julie) of Eagan, Minnesota; daughter, Renee (Dennis) Miller of Meridian, Idaho; 4 grandchildren, Brianna (Zane) Woolsey, Bryan (Melissa) Cotch, Kevin (Sheireen Moin) Cotch and Samuel (Lydia Hannah) Cotch. 3 great grandchildren, Ellianna, Carter and Vivian. She is also survived by 3 step-grandchildren and 10 step-great grandchildren; Her cousins Oliver (Suny) Agerlie, Clarice (Kieth) Anderson, Gordon (Carol) Kalkind , two sister in laws, Verna Cotch, Irene Kaehler and many nieces, nephews and special friends.

Funeral services will be held at 11 AM on Saturday, March 10, 2018 at Our Saviors Lutheran Church with Pastor Keith Ruehlow officiating. Visitation will be held from 4 – 7 PM on Friday at Williamson-White Funeral Home and one hour prior to the funeral service on Saturday. A private family interment will take place at a later date.
Lawrence "Larry" Cotch
1 January 1932 - 21 January 2018
Larry Cotch of Clayton, WI died Sunday January 21, 2018 at Golden Age Manor in Amery, WI at the age of 86, surrounded by family.

Larry Cotch was born on January 1, 1932 in rural Clayton to John and Mary (Dado) Cotch. He graduated from Clayton High School in 1950. On February 14, 1952, he married Verna Dietrich in Pine City, MN. Shortly after, they moved to Albuquerque, NM, and then returned to Clayton after 1.5 years. Upon return, Larry worked for Anderson Windows for a short while, until he was laid off. He then was hired at Stella Cheese in Clayton, where he worked for 39 years, until his retirement. In his spare time, Larry enjoyed gardening, hunting, fishing, card playing and had a love for wine making, with many enjoying the fruits of his labor. And of course, in true Wisconsin fashion, he loved the Packers. Family was the center of his life, expressing extreme love and pride for his wife, son and daughter-in-law, but especially his grandchildren.

Larry was preceded in death by his parents, John and Mary Cotch and siblings: John Cotch, Mike Cotch, Elaine (Cotch) Bjurstrom, Walter Cotch, Alvin Cotch, Robert Cotch and infant sister, Marlyn Cotch.

Larry is survived by his wife of 65 years, Verna Cotch of Clayton, WI; son, Darren (Carrie) Cotch of Elk River, MN; grandchildren, Kennedy Cotch and Carter Cotch; sister, Irene (Cotch) Kaehler of Barron, WI; sister-in-law, Frances Cotch of Hudson and many nephews, nieces, family and friends.

Larry was always the life of the party and spent his life building relationships with many people. That has been evident from all the love and support over the past weeks & months during his illness.

Funeral services will be held at 11:00 AM, Friday, January 26, 2018 at Immanuel Lutheran Church in the village of Clayton. A visitation will be held from 4-7 PM on Thursday, January 25, 2018 at the Williamson – White Funeral Home in Amery, WI with a prayer service following. A visitation will also be held the hour prior to the service at the church. Burial will be at the Clayton Cemetery. Casketbearers are: Henry Kaehler, Alan Cotch, David Bjurstrom, Keith Cotch, Barry Schaffer and Brian Fellrath.
Floyd A. Bjurstrom
Obituary
Floyd Alvin Bjurstrom was born on October 8, 1921 in Clayton, Wisconsin, the son of Frank and Ellen (Anderson) Bjurstrom. He grew up in Clayton and graduated from Clayton High School. Floyd farmed, but his major employment was as a parts man for John Deere working for Wilson Implement which became Polfus Implement. On October 25 of 1940 he was united in marriage to Elaine Cotch and together they had two children. In 1967 they sold their dairy herd, but still remained on the farm. Floyd and Elaine were fixtures at Clayton Sports events and supported the Clayton athletes with a passion. Floyd enjoyed the outdoors, especially fishing for pan fish. About seven years ago they left the farm and moved to Clear Lake. He had to travel to Stillwater three days a week for dialysis. Three years ago they moved to Somerset to be closer to family and also to have less travel for medical care. With the help of others Floyd was able to remain in his home after Elaine's death. He had been hospitalized and then moved to Deerfield Gables in New Richmond where he had been for three days before he died on Wednesday August 11, 2010 at the age of 88 years. Preceded in death by his wife Elaine, his parents, sister Ruby Monio, brother Melvin Bjurstrom, and great grandson Logan Miller. Left to celebrate his life are his children: David (Margaret) Bjurstrom and Carol (Bill) Curtis; grandchildren: Leslie (Kyle) Thomas, Kelly (Jason) Lundwall, Ryan Bjurstrom, Lauren Rathai, Conni (Todd) Outcelt, Kim (Steve) Hartke, Melissa (Todd) Miller and Terry (John) Degnan; great grandchildren: Cole, Garrett, Ethan, Avery, Anna, William, Nicole, Christopher, Alexis, Tanner, Dawson, Jack and Julia. He also leaves one sister Violet Wendt as well as other relatives and friends.

Funeral services will be held on Monday, August 16 at 11:00 a.m. from Zion Lutheran Church in Turtle Lake, Wisconsin with Pastor David Emmons officiating. Vocalists will be Connie, William and Anna Outcelt. Organist will be Joan Meyer. Interment will be at the Clayton Cemetery. Visitation will be Sunday, August 15 from 4 to 7 p.m. at the funeral home and for the hour prior to the service at the church.
Irene Cotch Kaehler
Obituary
Irene Kaehler age 99, of Rice Lake, Wisconsin went to be with her Lord Thursday, March 15, 2018 at Heritage Lakeside in Rice Lake, Wisconsin.

Irene was born on October 17, 1918 in Hartshorne, Oklahoma to John and Mary (Dado) Cotch and moved to the Clayton area at one year old. She attended Sunny Slope School. In 1932 she went to work at the Clayton hotel where she learned to cook from Mrs. Jacoby.

On October 24, 1937 she married Henry Kaehler at the Russian Orthodox Church. In 1941 they moved to Minneapolis and returned to Clayton in 1945. Irene worked briefly at Doughboy in New Richmond. Irene and her sister, Elaine operated the Magnor Café in 1953 and 1954. In 1992 she moved to St. Paul, Minnesota to live near her daughter and in July of 2012 returned to live in Rice Lake, Wisconsin. Irene spent many winters in Laughlin, Nevada enjoying the casinos and warm temperatures as well as travelling the United States. Irene enjoyed walking, cooking, gardening and beautiful flowers. However, Irene was the happiest when she was surrounded by family and friends. At family gatherings, she can be remembered for sharing many laughs and special memories with those around her. She welcomed everyone into her home making those who left feel like family. Irene cared deeply for those she loved and remains in the heart of many. We hold onto her sweet hugs, her words of love and the memories she helped us make.

Irene was preceded in death by her husband; daughters, Saundra and Cheri; parents John and Mary Cotch, and siblings: John Cotch, Mike Cotch, Elaine (Cotch) Bjurstrom, Walter Cotch, Alvin Cotch, Larry Cotch, Robert Cotch and infant sister, Marlyn Cotch. Irene is survived by her son, Henry (Judy) Kaehler of Cameron, Wisconsin; grandchildren, Dr. Hank (Johna) Kaehler of Stillwater, Oklahoma; Nikki (Jeff) Hamstead of Edmond, Oklahoma; Robin (Steve) Wanamaker of Lindstrom, Minnesota; Angie (Mike) Bullock of Corpus Christi, Texas; great-grandchildren, Cooper and Peyton Kaehler; Kendra, Jeff and Quinton Hamstead; Michelle (Thomas) Mikasevich of Lino Lakes, Minnesota; Mike Mooney; Zach Bullock and a great-great granddaughter, Riley Mikacevich; sister-in laws Verna Cotch of Clayton and Mary Alice (Bob) Dixon of Clovis, Califronia as well many nieces and nephews.

Funeral Services will be held at 11 AM on Friday, March 23, 2018 at Immanuel Lutheran Church in Clayton, Wisconsin. A visitation will be held from 4 – 7 PM on Thursday, March 22, 2018 at the Williamson~White Funeral Home and for one hour prior to the service at the Church. Interment will take place at the Clayton Cemetery following the service.
Saundra Kaehler
August 29, 1938 - July 05, 2013
Age 74 of Vadnais Heights. Passed away July 5th surrounded by family after a battle with leukemia. Preceded in death by father Henry Kaehler and sister Cheri. Survived by husband Steven; mother Irene; daughter Robin (Steven) Wanamaker; grandchildren Michelle Mooney (Fiancé Thomas Mikacevich) and Michael Mooney; brother Henry (Judith) Kaehler; step-sons Jason (Corina), Scott and Barry (Lisa); step-grandchildren Cohan, Bryce, Weston and Cayden; nieces, nephews, other relatives and friends. Funeral service Wednesday, July 10th at 10:30 AM (Visitation 9:30 – 10:30 AM) at TRINITY LUTHERAN OF LAKE JOHANNA; 3245 New Brighton Road; Arden Hills. Interment Roselawn Cemetery. Visitation Tuesday 4-8 PM at HOLCOMB-HENRY-BOOM-PURCELL FUNERAL HOME; 515 W. Hwy 96 at Mackubin, Shoreview.
Genevieve Adele Dado Bruder
1930 - 6 January 2003 Obituary
Bruder (Dado) - Genevieve Adele Beloved Wife, Mother Grandmother & Great--Grandmother Age 72, of Lino Lakes, on Jan. 6, 2003. Preceded in death by parents, Andrew and Susie Dado. Survived by husband of 56 years, Leo; children, Sharon (Terry) Miller, Laura Louis, Kimberly (Michael) Kirk, David (Diane), Vicki (Michael) Nowak, Daniel, Jeffry (Jenny); grandchildren, Andrea (Shane) Erdmann, Troy (Kelly) Miller, Christopher Miller, Angela (Gene) Kirk, Chad (Pamela) Kirk, Adam (Tabitha) Kirk, Joshua Kirk, Dena & Anna Bruder, Timothy & Janessa Olson, Amanda & Brandon Nowak, Drake, Elizabeth & Noah Bruder; great-grandchildren, Jessica & Jeramia Matheson, Shaylee & Mason Erdmann, Kahlia & Kianna Miller, Trevor & Tristin Snitker, Alexis, Ethan & Andrew Kirk, Austin Anderson, Kenneth Kirk, Austin Wood; sisters, Irene Paulson, Laurice (Wes) Lambert; brother Andrew Jr. (Joan) Dado; sister-in-law, Geraldine Thompson; also survived by many nieces, nephews, foster grandchildren, family and friends. Funeral service at CROSS OF GLORY LUTHERAN CHURCH, 5472 Adams St., Mounds View, on Thursday, Jan. 9 at 11AM. Visitation at MUELLER-BIES FUNERAL HOME-LINO LAKES, 7050 Lake Dr., on Wednesday (TODAY), from 4-8PM and at the church from 10AM Thursday until time of service. In lieu of flowers, memorials preferred. MUELLER-BIES 651-784-3390.
Irene Avril Dado Paulson
Obituary
Irene Avril (Dado) Paulson, age 91 of Clear Lake, WI, met her Savior, Jesus Christ, when she was called home on December 2, 2019 at Amery Hospital.

Irene was born on February 27, 1928 in Vance Creek Township to Andrew and Susan (Hoffich) Dado. Raised in the Prairie Farm area, Irene graduated from Prairie Farm High School in just three years and was her class Valedictorian. On May 28, 1949, she married the love of her life, Melvin Paulson.

Once she and Mel started their family, she was a housewife, raising and nurturing their nine children. They moved several times early in their marriage, finally settling on the Dado homestead. For years the family made their home on this dairy farm, between Clear Lake and Prairie Farm. She found much joy in her gardening and canning during her years as a homemaker.

Having several sons and grandsons on the Clear Lake Wrestling team, she became a big supporter and fan of Clear Lake Sports. She attended many matches over the past 40 years and traveled to Madison several times for the state tournament.

Irene attended Reeve Church faithfully for decades, where she was regarded as a prayer warrior. She loved to spend time reading her Bible and in prayer, deepening her walk of faith as she followed Jesus.

An avid reader who liked to shop, she was active right up to her final days, eating out with friends, attending Bible study, and celebrating family birthdays. She will be missed by her many family members and church family, but all who loved her are happy that she is now with her Savior and those she loved who arrived in Heaven before her.

Irene is survived by her children, Randy (Mona) Paulson, John (Susan) Paulson, Loren (Kathy) Paulson, Russell (Chris) Paulson, Marilyn Weber, Steven/Maynard (Diane) Paulson, Linda (Don) Rauterkus, Howard Paulson and Peter (Cheryl) Paulson; a brother, Andrew Dado Jr; 32 Grandchildren and 61 Great-Grandchildren as well as many nieces, nephews, cousins and friends. She is preceded in death by her husband, Melvin; her parents, Andrew and Susie; 2 sisters, Genevieve (Dado) Bruder and Laurice (Dado) Lambert; sons-in-law Joel Weber and Peter Friedrich; daughter-in-law Darla Paulson; and infant great-granddaughter Allison Landry.

Funeral Services will be held at 11 AM on Saturday, December 7, 2019 at the Reeve Evangelical Free Church with Pastor Todd Groat officiating. Visitation will be held from 4 – 8 PM on Friday at the Williamson-White Funeral Home and for one hour prior to the services at the Church. Interment will take place immediately following the service at the Reeve Cemetery.

To sign an online guest book and view a video tribute please visit www.williamsonwhite.com

Arrangements were entrusted to the Williamson-White Funeral Home and Cremation Services Amery, Wisconsin.
Allen R. Libby, 83, of Vance Creek Township, Barron County, Wisconsin, passed away on March 11, 2021 at Heritage Lakeside Nursing Home in Rice Lake, Wisconsin after a brief stay.

Allen Roy was born in the Clear Lake area on December 6th, 1937 to Victor and Helen (Dzubay) Libby. Allen grew up and lived in Vance Creek Township his entire life. During his early years he attended Meadowbrook School and Graduated from Clayton High School in 1956. He attended the University of Wisconsin at River Falls for a short time and returned to the family dairy farm to work with his parents. He met Marilyn Pearson at the roller rink in Deronda, Wisconsin and they were married on November 25th, 1960. Together they worked the farm with Victor and Helen for many years. They had three children: Laurie, Carol and Michael.

Allen was a lifelong member of the Reeve Evangelical Free Church and served there in the capacity of youth leader, Sunday school teacher and Trustee board member. He was one of the charter members of the Barron County Reserve Officer Corps (ROC) and was a part of that organization for over 30 years and also was a member on and later chairman of the Vance Creek town board for over 40 years.

He and Marilyn took over the farm in 1976 when Victor retired and later formed Libby's Pine Valley Dairy, Inc. He was successful in his farming career, had almost 200 head of dairy cattle, farmed nearly 500 acres of land and did custom combining and hay baling in the area. In addition to his service with the township and the ROC, Allen also served on other boards relating to the township, the Clear Lake Ambulance Board and for a short time on the Clayton School Board.

Allen was well liked and respected by those who knew him and will be missed by many. Preceding him in death were his wife Marilyn, his parents, Victor and Helen and many aunts and uncles.

He leaves behind his children; Laurie (Michael) Gargulak, Rice Lake, WI, Carol (Debi Jo) Libby, Urbana, IL and Michael (Cari) Libby, Minneapolis, MN; grandchildren Caitlin (Michael) Brudzinski, Roberts, WI, Allison Gargulak, Tampa, FL and Margaret and Ian Libby, Minneapolis, MN; great-grandchildren Amelia and Bria Brudzinski; sisters Mary Ann (Roger) Klinghagen, Wilmar, MN and Sue (Roger) Theno, Woodbury, MN; and special friend, Marion Hoskins, Almena, WI.

There will be a graveside service at the Reeve Cemetery on March 20th at 1:30 PM, with Rev. Todd Groat officiating. All are welcome. Please follow COVID-19 protocol, wear a mask and observe social distancing practices.

In lieu of flowers, memorial gifts may be given to the animal rescue of your choice.
Marilyn H. Libby age 77 of Vance Creek Township, Barron County, WI passed away unexpectedly on October 10, 2017 at Mayo Clinic Health Centers in Eau Claire, WI.

Marilyn Helen Libby was born on May 8, 1940 in Onalaska, WI, the daughter of Axel and Gertrude Moan. She was adopted by F. Napoleon (Pode) and Helen Pearson as a young girl and grew up in the Amery area. Marilyn graduated in 1958 from Amery High School and attended the University of Wisconsin at River Falls, earning a Bachelor's degree in Elementary Education. On November 25, 1960 she married Allen Libby and moved to the Libby family farm in Vance Creek where she lived for the rest of her life. Together they had three children, Laurie, Carol and Michael. Marilyn taught elementary school at Sprague School in Cumberland, WI, at Connorsville, WI, and also at Clayton, WI. She also waitressed for many years at Wayne's Cafe in Amery and worked alongside Allen on the farm until her retirement in 2007. In her spare time, Marilyn loved to garden, sew, quilt, bake, travel and watch the birds at their feeders. She made beautiful quilts for family and friends, and kept many flower beds in the summer. Marilyn was active with the Moon Lake Threshermen's Association and the Vance Creek chapter of the Happy Homemaker's Club. She struggled to recover following a stroke in August of 2012. Marilyn overcame a lot of the physical limitations brought on by the stroke, but she never complained and always worked hard to achieve the next milestone to be independent.

She was preceded in death by her birth parents, Axel and Gertrude Moan; adoptive parents, F. Napoleon (Pode) and Helen Pearson; her parents-in-law, Victor and Helen Libby; her brothers and sisters, Bernard (Rookie) Moan, Katherine Erickson, Arthur Moan, Russell Moan, Theresa Ann Moan, Clara Anderson, Clarence Moan, Michael Moan, Bernadette Glokzine, and Axel Moan.

She is survived by her husband, Allen Libby of Vance Creek, WI; children; Laurie (Michael) Gargulak of Rice Lake, WI, Carol (Debi Jo King) Libby of Urbana, IL and Michael (Cari) Libby of Madison, WI; grandchildren, Caitlin (Michael) Brudzinski of Roberts, WI, Allison Gargulak of Rice Lake, WI and Margaret and Ian Libby of Madison, WI; great grandchildren, Amelia Brudzinski and Baby Brudzinski on the way. brother Donald Pearson of Turtle Lake, WI;

While Marilyn will be missed by many friends and relatives, she will also be missed by some very special people, especially Christopher and Amber Queiser and their children Emmitt, Delilah, and Jordan, Gail Torgerson, and Charles and Jodi Hase and their children Jasimine and Wyatt.

The funeral will be held at the Reeve Evangelical Free Church in Clear Lake on October 16th, 2017 at 11AM with a burial following at the Reeve Cemetery.

A visitation will be held on October 15, 2017 from 4-7 PM at the Reeve Evangelical Free Church in Clear Lake WI and one hour before the service on Monday.

Clergy - Rev. Todd Groat Music - Margaret Peterson

Casket Bearers - Wyatt Hase, Paul Grossenbacher, Donald Pearson, Roger Theno, Michael Brudzinski, & Ora Bontrager

Memorial gifts can be given to the Reeve Church.

Scheuermann Funeral Home and Cremation Services are handling the arrangements. www.clearlakefuneralhome.com To send flowers to the family or plant a tree in memory of Marilyn H. Libby, please visit our floral store.
Katie Scheps, 16, Almena, Wis., died Jan. 22, 2006, at Regions Hospital, St. Paul, Minn.

She was born Nov. 8, 1989, at Cumberland to Kenneth and Deborah (Csuti) Scheps. Katie was baptized on Feb. 25, 1990, at First United Methodist Church, Cumberland, and received her first communion on May 17, 1998, at Sacred Heart Catholic Church, Almena.

Katie was a sophomore at Cumberland High School, where she was an honor student and participated in softball, basketball and FFA.

Surviving in addition to her parents are brothers, Derek Scheps of Reeve and Nolan Scheps of Almena; grandparents, Frank and Barbara Csuti of Cumberland and Adolph and Lorraine Scheps of Almena; maternal aunts and uncles, Frank L. (Pam) Csuti of Bloomington, Minn., Sandy (Turk) Finseth of Eau Claire, Kathy (Stacy) Peterson of Milltown and Barbara Jo Whelan of Corcoran, Minn.; paternal aunts and uncles, Kathleen Blackwell of Boulder, Colo., Debbie (Jim) Selvig of Barron, David (Connie) Scheps of Turtle Lake, Laurie (Randy) Manske of Blooming Prairie, Minn., Dale (Sandy) Scheps of Almena, Linda (Mark) Krummel of Apple Valley, Minn., and Dan (Valerie) Scheps of Almena; and many cousins and friends.

Services were held at 3:00 p.m. Wednesday, Jan. 25, from the Cumberland High School gymnasium, Rev. David Halaas officiating, with burial at Sacred Heart Cemetery, Almena.

Pallbearers were Michael Molls, Cody Capra, Marcel Moore, Kyle Mathison, Brian Scheps, Dan Scheps, Trenton Nyhus and Jordan LaBlanc. The Cumberland girls basketball team served as honorary pallbearers.

Skinner Funeral Home, Cumberland, handled arrangements.
Dale R. Cotch, age 58 of Star Prairie passed away on Sunday, January 29, 2017 at his residence surrounded by family after a courageous battle with cancer.

Dale was born on August 9, 1958 in Amery to parents, Robert and Ann (Thill) Cotch. He attended Osceola schools and graduated with the class of 1976. After high school Dale joined the U.S. Coast Guard and served 30 years being honorably discharged from active duty in 2006 with the rank of Chief Warrant Officer (CWO4). Throughout his career Dale was stationed in Alameda, CA, Seattle, WA, Petaluma, CA, St. Paul, MN, Duluth, MN, New York City, NY, Juneau, AK, Sitka, AK, Seattle, WA and New London, CT. He married Mary Bishop on May 15, 1998 in Crystal Lake, Nevada. Dale worked as an Assistant County Veterans Service Officer for Washington County, Minnesota and most recently as the County Veterans Service Officer for St. Croix County, Wisconsin. Dale was very involved with and volunteered his time with nine Honor Flights to Washington, D.C. He was also a member of the Twin Cities Military Retiree Council and was active in area American Legions. He received his B.S. Degree from Southern Illinois University in May of 2007. Dale was an active member of Peace Lutheran Church and also served as president of the church council for five years. He volunteered as coach for youth basketball, baseball and soccer. He enjoyed time shooting pool in a league as well as hunting, traveling, spending time outdoors and being a Packer fan.

Dale is survived by his wife, Mary, daughter, Rebecca (Aaron) Cotch of Anchorage, AK; son, Dylan at home, sisters, Jill (Larry) Carlson of Osceola, Heidi Schrock of Osceola, Jode (Bob) Bardwell of Stewartville, MN and Jenny Fox of Stillwater, MN; brothers, Jeff (Lori) Fox of Dresser, Jim Fox of West St. Paul, MN and Jerome (Amy) Fox of Algonquin, IL; granddaughter, Renee Doyle; in laws, Harold and Dorothy Bishop of New Richmond, Vicki (Jim) Palmer of Chisago City, MN and Sandra (Kevin) Westling of Mesa, AZ as well as many special nieces, nephews, great nieces and nephews, many friends and fellow veterans. Dale is preceded in death by his parents, Robert Cotch and Ann Cotch Fox and stepfather, Jerry Fox.

In lieu of flowers memorials may be directed to the Twin Cities Honor Flight Group (www.honorflighttwincities.org).

To send flowers to the family in memory of Dale R. Cotch please visit our Tribute Store.