Arne Thompson
My great-great-grandfather
Born Arne Tostensen Andersen 16 June 1850 in Ostmarken, Kongsvinger, Norway, died August 12, 1922 in a train vs. truck railway accident.
He and Eli came to the US around 1879/1880 into Boon Co., IL and later moved to Hamline CO, SD.
He is buried in the Swedish Lutheran Church Cemetery in Annandale, MN.
Norwegian Census 1865
- These bear further exploration
The Train Accident

Duluth Herald
Presumably arrived in the United States around 1880-1882, according to inferred census records of his daughter, Carrie.
Andrew Rudd Thompson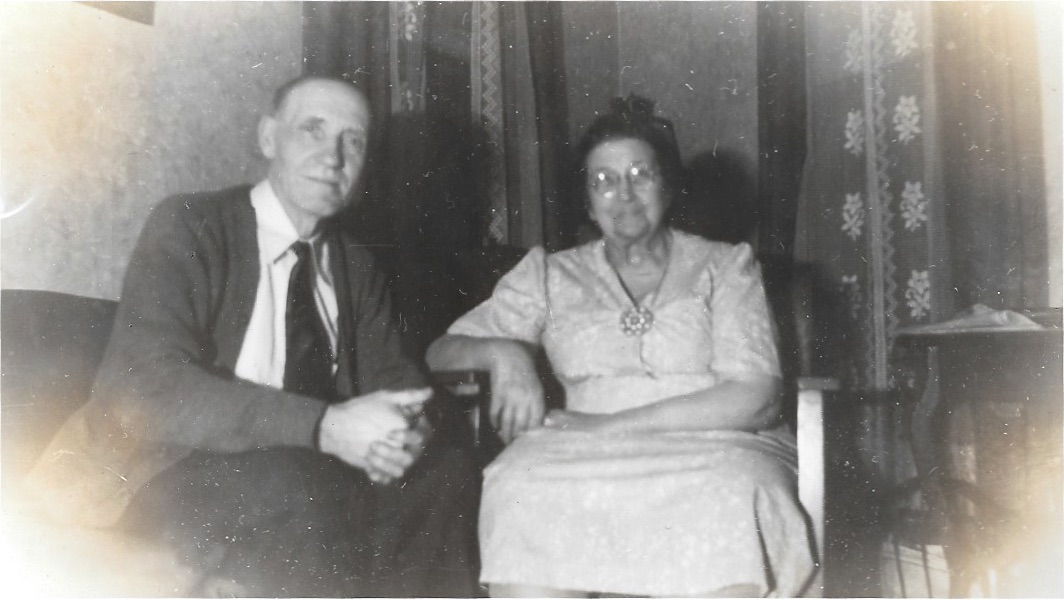 Andrew and Tillie Thompson
Born: 11 November 1872 in Norway
Baptised:
08 Dec 1872

Died: 1 December 1952 in Minneapolis
Spouse: Tillie born May 1872 in Iowa died 5 March 1960.
Married Matilda C. Linquist on 30 Dec 1897 in Iowa, daughter of Jonas Linquist, Hannah Carlstom.
Minnesota, Deaths and Burials, 1835-1990

Family Tree
Andrew Rudd Thompson

Spouse: Matilda C. "Tillie" Lindquist
Son: Elroy Thompson

Spouse: Anna Margaret Sather
Daughter: Lois Virginna Thompson Johnson

Spouse: Edward Harold Johnson b. 8 November 1910, d. 13 December 2002
Son: Randall Elroy Johnson (November 1946)

Spouse: (Mary P. Forsythe) (Polly)
Daughter: Kerith A. Johnson (27 September 1980)

Spouse: Daniel Stevens
Daughter: Linnea K. Stevens
Daughter: Kaisa

Daughter: Kristen E. Johnson

Son: Craig Edward Johnson (9 February 1949)

Spouse: Darlene Divorced: September 1979
Son: Kyle Adam Johnson

Son: Kevin Bruce Johnson (5 June 1951)

Son: Lloyd Earnest Thompson B. 04 April 1904 D. 31 August 1979

Spouse: Ida Doris Cambron/Carlson m. (17 February 1905 - 9 December 1987) M. 20 June 1925
Son: Richard Lloyd Thompson b. 23 August 1927 Chicago
Son: Robert George Thompson b. 10 July 1929
Elroy Thompson
From Find a Grave
Birth: Jan. 3, 1900, Hazel, Hamlin County, South Dakota, USA
Death: Jul. 10, 1994, Minneapolis, Hennepin County, Minnesota, USA
Elroy Adolph Thompson was born on 3rd of January 1900 in Hamiln County in South Dakota. Elroy was son of Andrew Rudd Thompson and Tillie C Lundquist. On the 6th of April 1918, Elroy married Anna Margaret Sather in Minneapolis, MN. Elroy and Anna had 1 daughter.
He married Macie Thompson on 19 April 1974 in Seattle, WA. She died 2 February 2007 in Foley, MN.
1900 Census lists a "Elroy E." there is also and Elroy A. (Draft Card indicates Adolph) listed with spouse Anna C Thompson (born in Norway) in censuses from 1920-1940 with daughter Lois in Hennepin County, MN.
Lois Virginna Thompson Johnson
Edward Harold Johnson
M, b. 8 November 1910, d. 13 December 2002
Charts Descendants of Peter (Martinson) Sather and Anna Aurora Hildegard Lundquist
Research-Note* Served in WWII. Active member of Riverside Church.
Birth* 8 Nov 1910 Minneapolis, Hennepin, Minnesota, United States1
Marriage* 7 Jun 1941 Minneapolis, Hennepin, Minnesota, United States; Principal=Lois Virginna Thompson
Military Service* 1942 England, France Germany; Served in WWII Superme Headquarters of the Allied Expeclitionery Forces working with General Dwight Eisenhower
Death* 13 Dec 2002 Minneapolis, Hennepin, Minnesota, United States
Family
Lois Virginna Thompson
Children
Son: Randall Elroy Johnson (November 1946)
Spouse: (Mary P. Forsythe) (Polly)

Daughter: Kerith A. Johnson (27 September 1980)

Spouse: Daniel Stevens
Daughter: Linnea K. Stevens
Daughter: Kaisa

Son: Craig Edward Johnson (9 February 1949)

Spouse: Darlene Divorced: September 1979
Son: Kyle Adam

Son: Kevin Bruce Johnson (5 June 1951)
Lloyd
Born: 04 April 1904
Died: 31 August 1979
Spouse: Ida (17 February 1905 - 9 December 1987)
Married: 20 June 1925
Son: Richard (Dick) - Oak Park, IL
Son: Robert (Bob) - Westchester, IL
THOMPSON, LLOYD was born 04 April 1904, received Social Security number 326-09-5729 (indicating Illinois) and, Death Master File says, died August 1979. Other sources indicate he died in Bensenville, IL.
Elizabeth/Eliza "Lizzie" Thompson Johnson
According to 1905 Minnesota Census, she lived with Andrew at the age of 23, making her birth in Wisconsin about 1882.
At one time, she lived in the same building in San Francisco as my great-grandmother. Family stories indicated that they did not trust each other.
Everett (Ev) Johnson (born about 1906) was her son and he had two children, Lee Johnson and Joyce Johnson Tarrentino.
1940 Census
Dorothy C Schaefer, born 02/09/1910 to Ms. Connolly in San Francisco County (Probably)
Lee Grant Johnson, born 06/02/1932 to Ms. Schaefer in San Francisco County
Honolulu Star-Advertiser -
June 2, 1932 - Jan. 14, 2011
Lee Grant Johnson, 78, of Mililani, a retired Army military intelligence officer, died in Honolulu. He was born in San Francisco. He is survived by wife Jane K., son Ken D., daughter Jere L. Sanchez , sister Joyce Tarrentino and five grandchildren. Private services.
Joyce Kay Johnson, born 01/21/1942 to Ms. Schaefer in San Francisco County
Spouse: John Magnus Johnson
Son: Emil Everett Johnson

Spouse: Dorothy Schaefer
Son: Lee Grant Johnson

Spouse: Jane K.
Son: Ken D. Johnson
Daughter: Jere L. Johnson

Spouse: Kent? Jerry? Sanchez
Married?: 7 Jun 1988

Daughter: Joyce Kay Johnson

Spouse: James Tarantino, Jr.
Daughter: Bonnie S Tarantino
Son: James R. Tarantino
Son: Joseph Tarantino
Daughter: Diana G. Tarantino
Daughter: Della M. Tarantino

Spouse: Julius Johnson
Thorvald E. Thompson
According to an
Ancestry.com
entry, born 9 Jul 1884 in Clinton, WI and
died 4 Oct 1946

in Seattle, Washington. Draft registration records indicate a July 9 1883 birth.
Thorvald married Manda/Amanada Johnson and was the father of three daughters, Alice Llorrae (Married Richard Mathews and John Patrick Quigley), Hazel Violet Bartholomew (13 Jan 1906 - 16 Sep 2002) and Lillian May Rozenberg (known as May).
Manda was born in South Side, Minnesota, USA on 25 Jun 1887 and passed away on 7 Aug 1927 in Minneapolis, Minnesota, USA.
Both Thorvald and Manda are buried in St. John's Lutheran Church Cemetery, Annandale, Wright Co., MN, according to cemetery records. However, cemetery records indicate Thorvald's death in 1938, rather than 1946.
I remember Hazel quite well, as she visited my grandmother Clara Dado quite often. As a family, I also remember visiting May and Don Rozenberg in Southern California in the late 1960s or early 1970s.
Hazel was married to Vernon Bartholomew. They had a daughter who presumably died at birth on 30 December 1931 or 1932. Hazel's sons were Stephen Vernon (b. abt. 1936) and David Anthony (born 5/31/1940). Stephen was married to Muriel Bromberg (Ancestry)/Broumber (California Birth Index) AKA Mimi. Hazel divorced on 12 November 1963.
Stephen and Mimi had a son, Brendan Patrick Bartholomew, 23 December 1969.
David married Sue Anderson.
Alice's children are Michael Mathews, Judy Lee Quigley (born 1 September 1941) and Jan Patrick Quigley (born 1 April 1946)
1910 Census

indicates his birthplace in Illinois. Clinton, WI is on the Illinois border.
The 1930 United States Federal Census contains this entry. It's possible he remarried.
NAME: Thorvald Thompson
SPOUSE: Clara Thompson
BIRTH: abt 1884 - Wisconsin
RESIDENCE: 1930 - city, Hennepin, Minnesota
The same information from FamilySearch.org

confirms the remainder of the family.

Thorvald Thompson, "United States Census, 1930"
Name: 	Thorvald Thompson
Titles and Terms: 	
Event Type: 	Census
Event Year: 	1930
Event Place: 	Minneapolis (Districts 1-250), Hennepin, Minnesota, United States
District: 	0129
Gender: 	Male
Age: 	46
Marital Status: 	Married
Race: 	White
Race (Original): 	White
Relationship to Head of Household: 	Head
Relationship to Head of Household (Original): 	Head
Birth Year (Estimated): 	1884
Birthplace: 	Wisconsin
Immigration Year: 	
Father's Birthplace: 	Norway
Mother's Birthplace: 	Norway
Sheet Number and Letter: 	4A
Household ID: 	125
Line Number: 	1
Affiliate Name: 	The U.S. National Archives and Records Administration (NARA)
Affiliate Publication Number: 	T626
Affiliate Film Number: 	1093
GS Film number: 	2340828
Digital Folder Number: 	004610047
Image Number: 	00865
  	Household 	Gender 	Age 	Birthplace
Head 	Thorvald Thompson 	M 	46 	Wisconsin
Wife 	Clara Thompson 	F 	32 	Minnesota
Daughter 	Gertrude Goff 	F 	9 	Minnesota
Daughter 	Hazel Thompson 	F 	24 	Minnesota
Daughter 	May Thompson 	F 	13 	Minnesota
Daughter 	Alice Thompson 	F 	8 	Minnesota 

His death certificate

confirms his birth and death dates, and lists his mother's names as "Ellen."
Family tree
Thorvald Thompson

Spouse: Amanda Johnson
Daughter: Hazel Violet Thompson

Spouse: Vernon Batholomew
Daughter: ? (Died at birth)
Son: Steven Vernon Bartholomew

Spouse: Muriel Bromberg
Son: Brendan Patrick Bartholomew

Son: David Anthony Bartholomew

Daughter: Lillian May Rozenberg

Spouse: Donald Dick Rozenberg
Daughter: Donna May Rozenberg
Mary Dorothy Rozenberg b. 26 December 1943, Los Angeles d. 4 March 1947
Daughter: Dorothy Rozenberg

Spouse: Ray Roth
Robert Roth
Rebecca Roth

Spouse: Dave Proctor
Daughter: Madison
Son: Alex

Daughter: Alice Llorrae Thompson 1922 - 12 May 2007
Spouse: Clara
Step-Daughter: Gertrude Goff
Elisa Arneson Thompson
Born 9 March, 1862 in Norway. Was married to George Smith and had two daughters, Emma Smith Roeber and Clara Smith. With Arne Thompson had a son Edward. She died 21 March 1951.
This information is from a index card maintained by my grandmother, Clara Dado, with corrections from Lynn Serack (her great-granddaughter).
Palmiter, Majory (Margy Marge)

Husband is a magazine editor and writing a book on Wisconsin cheese.

Margy Marjory/Marge is the daughter of Emil and Emma Roeber. Emil Roeber died in 1967. Emma died Jan. 30, 1987. Emma was born July 10, 1895 in Annandale, Minn. She was married to Emil Roeber on Sept. 9, 1919. Her parents were Elisa Arneson Smith and George Smith. Elisa was the second wife of Arne Thompson, father of Andrew, Carrie, Lizzie and Thorvald. Edward Thompson was born to Elisa and Arne. Emma and Clara Smith were step-daughters of Arne Thompson. Carrie Thompson Gunderson Anderson is the mother of Clara and Thora (twins), Annette Anderson and Albert Gunderson (Edgar Albert).

Emma's sister Clara Smith married Russell Holmes, now deceased, and lives in Detroit, Mich. She was born July 2, 1893. 6-87 Lives in Ypsilanti, Mich.

Margy's children are: Steven and Lynne.

Steve married Diana Smith on Feb. 28, 1987, and both are teachers in Minneapolis, Minn. Lynne married Kenneth Serack 1/10/1994 - and lives in Seattle (Snoqualmie, WA). Margye's brother, Donald and family live in the Seattle area. Don lives in Kent, Wash., and the family members in nearby areas. Don is an Administrator in a hospital in Seattle. Don died and is survived by 2 sons and a daughter, all married, with children, two have grandchildren. (You can get the rest of the clan when I send you the pedigree.)

Edward (Eddy) Thompson has two sons, Richard/Dick and Douglas.
Marjory E. Roeber Palmiter
Marjory was the granddaughter of Elisa from her first marriage. She was born 9 August 1923 and died 19 December 2011. Husband Harry Palmiter (1922-2002), died March 2002. Daughter, Lynn P. Serack (Kenneth), and Son, Steven J. Palmiter (Diane).
Donald Roeber
6/1/1920 - 6/23/2007
Edward Arne Thompson
Son of Arne and Elisa
Born 15 June 1900, possibly Waterton, SD. Died 1955. His half sisters Clara and Emma were born 1893 & 1895.
Married
Norma Hendrickson
in Winnebago County, Illinois.
M928-0403 04/10/1928 THOMPSON, EDWARD 27 HENDRICKSON, NORMA CLARIND 19
Richard "Dick" Lowell Thompson
28 September 1928 - 13 February 2010
Obituary at Janesville, WI Gazette

Richard L. Thompson, Edgerton (1928 - 2010)

September 28, 1928 - February 13, 2010 Richard L. Thompson, 81, Edgerton, WI, passed away Saturday, Feb. 13, 2010, at his home. He was born on Sept. 28, 1928, son of the late Edward and Norma (Hendrickson) Thompson. Richard married Florence "Flo" Steindl on June 10, 1951, in Central Lutheran Church, Edgerton. Richard served from 1948 to 1952 in the Air Force. He owned the Thompson Real Estate Agency for over 40 years in Edgerton. He enjoyed collecting trains and guns. He belonged to Central Lutheran Church and was an usher at the church. He was a member of the Edgerton Lions Club.

Richard is survived by his daughters, Jane (Rick Parrent) Bell of Edgerton and Eve (Jerry) Kisgen of Ashville, NC; grandchildren, Leslie (Brian Dempsey) Bell and Jerry (Kirstin) Kisgen; and great-grandchildren, Alexis and Luke Kisgen.

In addition to his parents, Richard was preceded in death by his wife, Flo; and a brother, Douglas Thompson.

Funeral services will be held at 11 a.m. Friday, Feb. 19, 2010, at CENTRAL LUTHERAN CHURCH, with Pastor Erica Adams officiating. Burial with full military rites will be in Fassett Cemetery. Visitation time will be from 4 until 7 p.m. Thursday at the WHITCOMB-LYNCH-ALBRECHT FUNERAL HOME, EDGERTON, and from 10 a.m. until time of services Friday at the CHURCH. Memorials may be given to HospiceCare, Inc. or the VA Hospital, Madison, WI.

A special thanks to the wonderful people at HospiceCare, Inc. and the special doctors at the VA Hospital.

Richard Thompson at Find a Grave
Preceded in death by wife Florence Steindl Thompson
Name Thompson, Florence Steindl
Residence Edgerton, WI
Birth Date 05 May 1931
Death Date 31 Aug 2005
Spouse Richard Thompson
Newspaper 02 Sep 2005 2B
Jane Thompson Bell
Married/Associated with Rick Parrent
Facebook

Daughter
Leslie Bell Dempsey

(Brian)
Leslie Bell & Brian Dempsey
February 5, 2011 Gallery 1028

The Couple - Brian can still recall what Leslie was wearing the first time he laid eyes on her at a party: "printed shirt, blazer, ponytail," says the groom. Now that's what we call making an everlasting impression!

The Details - LOLA Event Productions worked old barn windows into the party's décor. Callahan Catering incorporated the couple's favorite dishes (think mac 'n' cheese and paella) into the night's nibbles.

The Party - Because Feb. 5 is also Leslie's birthday, The Party Faithful sang "Happy Birthday" to the bride. All 145 guests parted with spiced sachets handmade by the happy couple. –Elise Hofer
Eve Alise Thompson Kisgen
Married to Jerry Kisgen
Class of 1977 (Probably)
Edgerton Senior High School
Possibly located in New Braunfels, TX or Austin, TX or Fletcher, NC or Asheville, NC (2010)
Son Jerry Kisgen
Daughter-in-law Kirstin


Granddaughter Alexis


Grandson Luke
Douglas Thompson
11 November 1936 - 9 February 2005
Family Tree
Edward Thompson 15 June 1900 - 1955

Spouse: Norma Clarinda Hendrickson Oliver
Son: Richard "Dick" Lowell Thompson b. Sept. 28, 1928 d. February 13, 2010
Son: Douglas E. Thompson b. 11 November 1936 d. 9 February 2005

Spouse: Trudy (divorced 1950s)